The War on Alcohol: Prohibition and the Rise of the American State (Hardcover)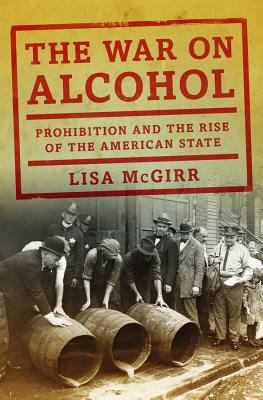 $27.95
Email or call for price
Description
---
A groundbreaking history of Prohibition and a new creation story for the powerful American state.
Prohibition has long been portrayed as a "noble experiment" that failed, a newsreel story of glamorous gangsters, flappers, and speakeasies. Now at last Lisa McGirr dismantles this cherished myth to reveal a much more significant history. Prohibition was the seedbed for a pivotal expansion of the federal government, the genesis of our contemporary penal state. Her deeply researched, eye-opening account uncovers patterns of enforcement still familiar today: the war on alcohol was waged disproportionately in African American, immigrant, and poor white communities. Alongside Jim Crow and other discriminatory laws, Prohibition brought coercion into everyday life and even into private homes. Its targets coalesced into an electoral base of urban, working-class voters that propelled FDR to the White House.
This outstanding history also reveals a new genome for the activist American state, one that shows the DNA of the right as well as the left. It was Herbert Hoover who built the extensive penal apparatus used by the federal government to combat the crime spawned by Prohibition. The subsequent federal wars on crime, on drugs, and on terror all display the inheritances of the war on alcohol. McGirr shows the powerful American state to be a bipartisan creation, a legacy not only of the New Deal and the Great Society but also of Prohibition and its progeny.
The War on Alcohol is history at its best—original, authoritative, and illuminating of our past and its continuing presence today.
About the Author
---
Lisa McGirr is Professor of History at Harvard University, where she specializes in the history of the twentieth-century United States. Her research and teaching interests bridge the fields of social and political history and focus on collective action, state building, reform movements, and politics. Her most recent book, The War on Alcohol: Prohibition and the Rise of the American State, won acclaim for excavating the significant but neglected state-building legacies of national Prohibition. Her award-winning first book, Suburban Warriors: The Origins of the New American Right, investigated the social and regional basis of grassroots conservative politics in the post–World War II United States. She teaches a wide variety of courses on the history of the United States in the twentieth century.
Praise For…
---
In this remarkable book, Lisa McGirr transforms our understanding of Prohibition and its legacy. Moving beyond familiar tales of speakeasies and gangland violence, she shows how this episode contributed to the expansion of the authority of the modern American state and the origins of mass imprisonment. No history could be more timely.
— Eric Foner, author of Gateway to Freedom

McGirr's book, fascinating and deeply researched, offers a startlingly fresh argument for why so many of our current problems—from the war on drugs to mass incarceration—grow out of Prohibition. Anyone who wants to understand the 1920s, 1930s, and 2000s should read this book.
— Jonathan Alter, author of The Defining Moment

This is not just the best book ever written about the era of Prohibition; it is a landmark history of modern America. With splendid insight and illuminating details, Lisa McGirr demonstrates that the war on alcohol was the health of the state.
— Michael Kazin, author of American Dreamers

In her revelatory new book, Lisa McGirr moves
Prohibition from the gin-soaked edges of the Roaring Twenties to the heart of
the American state.
— Kevin Boyle, author of Arc of Justice

[A] fascinating account of Prohibition and its consequences, written with verve, depth, and imagination.
— Ira Katznelson, author of Fear Itself

Lisa McGirr has given us an admirably fresh look at a supposedly shopworn subject. She convincingly demonstrates that the Prohibition era deserves to be taken seriously as the nursery of many stubbornly persistent practices, including a moralizing, meddlesome state that targets its punitive powers on the least-advantaged citizens.
— David M. Kennedy, author of Freedom from Fear