Mediterranean Fresh: A Compendium of One-Plate Salad Meals and Mix-and-Match Dressings (Hardcover)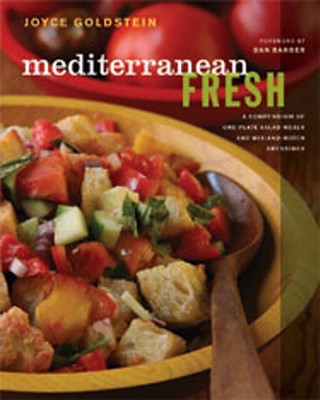 for information about purchasing this book, please contact orders@bookpassage.com
Description
---
A treasure trove of salad meals and mix-and-match dressings within reach of everyday cooking.
In the Mediterranean, salad means anything from tabbouleh to white beans and prawns in a lemony dressing to small plates of mezze, antipasti, and tapas. Joyce Goldstein shows you how to make 140 of these delicious, healthful, easy-to-prepare dishes for a sensuous and satisfying meal.
With thirty versatile dressings, you'll expand your salad horizons. Just by changing the dressing and garnish, you can make a chopped salad Moroccan, Spanish, or Turkish. Roasted peppers can be Italian with anchovies and olives or spicy with a Tunisian harissa dressing. Beets and greens can move to France with walnut vinaigrette or to the Middle East with tahini dressing. Even a carrot can become exotic with a Moroccan citrus-cinnamon dressing.
Joyce shows you the art of dressing a salad and how to use dressings as marinades, spreads, dips, and finishing sauces. Along the way you'll learn how to taste, balance flavors, and develop your palate.
About the Author
---
Joyce Goldstein is a consultant to the restaurant and food industries and a columnist for the San Francisco Chronicle. For twelve years she was chef-owner of Square One, the pioneering San Francisco Mediterranean restaurant. She lives in San Francisco, California.

Dan Barber is a chef and owner of several restaurants including Blue Hill in Manhattan and Blue Hill at Stone Barns in Pocantico Hills, New York.