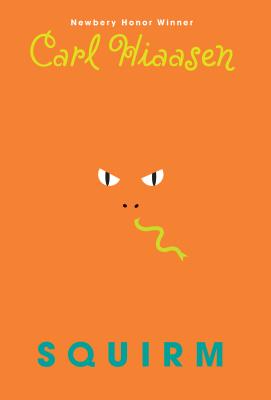 Description
---
Snakes, grizzlies, a missing dad, a menacing drone... Carl Hiaasen delivers a wickledly funny, slightly subversive tale in his latest New York Times bestseller. 

Some facts about Billy Dickens:
  *  He once saw a biker swerve across the road in order to run over a snake.
  *  Later, that motorcycle somehow ended up at the bottom of a canal.
  *  Billy isn't the type to let things go.

Some facts about Billy's family:
  *  They've lived in six different Florida towns because Billy's mom insists on getting a house near a bald eagle nest.
  *  Billy's dad left when he was four and is a total mystery.
  *  Billy has just found his dad's address--in Montana.

This summer, Billy will fly across the country, hike a mountain, float a river, dodge a grizzly bear, shoot down a spy drone, save a neighbor's cat, save an endangered panther, and then try to save his own father.
About the Author
---
CARL HIAASEN was born and raised in Florida. He writes a column for the Miami Herald and is the author of many bestselling novels, including Razor Girl and Bad Monkey. His books for younger readers include the Newbery Honor winner Hoot, as well as Flush, Scat, Chomp, and Skink--No Surrender.

You can read more about Hiaasen's work at carlhiaasen.com, and follow him on social media on Instagram, Facebook, and Twitter at @Carl_Hiaasen.
Praise For…
---
"A fun romp that will keep readers hooked." —The New York Times

"Humorous, self-deprecating narration and convoluted exploits will keep pages turning till the satisfying close." —Kirkus Reviews

"Hiaasen's latest is richly steeped in the natural world and all the peril it contains, from rattlers to grizzlies. Still, what may be most satisfying for readers are the personal connections Billy makes, whether it's getting to know his new stepsister or making peace with his dad." —Booklist

"Hiaasen's ecological passion shows no sign of abatement, and neither does his faith in kid resourcefulness and family resilience." —Bulletin

"An entertaining, pulse-pounding story."— The Horn Book Magazine

"Terrific characters and ingenious, fast-paced storytelling." —The Atlanta Journal Constitution

"Hilarious, heartfelt and delightfully surprising." —The Times Herald