Moon Over Manifest (Hardcover)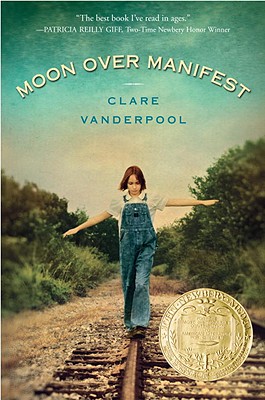 $16.99
Email or call for price
Autumn 2010 Kids' Next List
---
"Moon Over Manifest by Clare Vanderpool features a plucky heroine, Abeline Tucker, who feels abandoned when her father puts her on a train bound for Manifest, Kansas in the care of an old family friend--now the town bootlegger and minister--so he can work on the rails for one summer. On a journey of self discovery, she wants to know the secrets held by a small box of items that have been mysteriously left for her. As she unravels the clues, she also discovers many things about her father's relationships to the colorful town and characters of Manifest. Vanderpool's many red herrings lure the reader upstream as she cleverly sets up a surprising con--just like the cunning characters in her book do to each other. Moving back and forth between 1918 and 1936, Vanderpool weaves a strong and vibrant narrative, connecting the past and present through her delightful characters who speak loudly and uniquely. A celebration of heritage, story, and the communities that bind together to form one big family, Moon over Manifest is a terrific debut by a writer to watch."
— Sarah Bagby, Watermark Books, Wichita, KS
Description
---
Winner of the 2011 Newbery Award.

The movement of the train rocked me like a lullaby. I closed my eyes to the dusty countryside and imagined the sign I'd seen only in Gideon's stories: Manifest—A Town with a rich past and a bright future.
 
Abilene Tucker feels abandoned. Her father has put her on a train, sending her off to live with an old friend for the summer while he works a railroad job. Armed only with a few possessions and her list of universals, Abilene jumps off the train in Manifest, Kansas, aiming to learn about the boy her father once was.
Having heard stories about Manifest, Abilene is disappointed to find that it's just a dried-up, worn-out old town. But her disappointment quickly turns to excitement when she discovers a hidden cigar box full of mementos, including some old letters that mention a spy known as the Rattler. These mysterious letters send Abilene and her new friends, Lettie and Ruthanne, on an honest-to-goodness spy hunt, even though they are warned to "Leave Well Enough Alone."
Abilene throws all caution aside when she heads down the mysterious Path to Perdition to pay a debt to the reclusive Miss Sadie, a diviner who only tells stories from the past. It seems that Manifest's history is full of colorful and shadowy characters—and long-held secrets. The more Abilene hears, the more determined she is to learn just what role her father played in that history. And as Manifest's secrets are laid bare one by one, Abilene begins to weave her own story into the fabric of the town.
 
Powerful in its simplicity and rich in historical detail, Clare Vanderpool's debut is a gripping story of loss and redemption.
About the Author
---
Moon Over Manifest, Clare Vanderpool's first novel, is set in the fictional small town of Manifest, Kansas, which is based on the real southeastern Kansas town of Frontenac, home of both of her maternal grandparents. Drawing on stories she heard as a child, along with research in town newspapers, yearbooks, and graveyards, Clare found a rich and colorful history for her story. Clare lives in Wichita, Kansas, with her husband and their four children.
Praise For…
---
Starred review, BOOKLIST, October 15, 2010:
After a life of riding the rails with her father, 12-year-old Abilene can't understand why he has sent her away to stay with Pastor Shady Howard in Manifest, Missouri, a town he left years earlier; but over the summer she pieces together his story. In 1936, Manifest is a town worn down by sadness, drought, and the Depression, but it is more welcoming to newcomers than it was in 1918, when it was a conglomeration of
coal-mining immigrants who were kept apart by habit, company practice, and prejudice. Abilene quickly finds friends and uncovers a local mystery. Their summerlong "spy hunt" reveals deep-seated secrets and helps restore residents' faith in the bright future once promised on the town's sign. Abilene's first-person narrative is intertwined with newspaper columns from 1917 to 1918 and stories told by a diviner, Miss Sadie, while letters home from a soldier fighting in WWI add yet another narrative layer. Vanderpool weaves humor and sorrow into a complex tale involving murders, orphans, bootlegging, and a mother in hiding. With believable dialogue, vocabulary and imagery appropriate to time and place, and welldeveloped characters, this rich and rewarding first novel is "like sucking on a butterscotch. Smooth and sweet."

Starred review, KIRKUS REVIEWS, September 15, 2010:
"Readers will cherish every word up to the heartbreaking yet hopeful
and deeply gratifying ending."

Starred review, PUBLISHERS WEEKLY, September 27, 2010:
"Replete with historical details and surprises, Vanderpool's debut delights,
while giving insight into family and community."

Review, THE BULLETIN OF THE CENTER FOR CHILDREN'S BOOKS, November 2010:
"Ingeniously plotted and gracefully told."