King Dork (King Dork Series #1) (Paperback)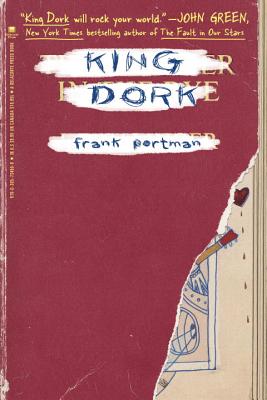 for information about purchasing this book, please contact orders@bookpassage.com
Other Books in Series
This is book number 1 in the King Dork Series series.
Description
---
"King Dork will rock your world." --John Green, New York Times bestselling author of The Fault in Our Stars

When Tom Henderson finds his dead father's copy of J. D. Salinger's The Catcher in the Rye, his world is turned upside down. Suddenly high school gets more complicated: Tom (aka King Dork) finds himself in the middle of mysteries involving dead people, naked people, fake people, a secret code, girls, and rock and roll. As he goes through sophomore year, he finds clues that may very well solve the puzzle of his father's death and—oddly—reveal the secret to attracting semi-hot girls. (The secret might be being in a band, if he can find a drummer who can count to four.)
 
This unruly cult classic features song lyrics throughout and now includes a glossary and a bandography. And look for the sequel, King Dork Approximtely, available now.

Praise for King Dork:

"Basically, if you are a human being with even a vague grasp of the English language, King Dork will rock your world."—John Green, author of The Fault in Our Stars
 
"[No account of high school] has made me laugh more than King Dork. . . . Grade A."—Entertainment Weekly
 
"Impossibly brilliant."—Time

"Provides a window into what it would be like if Holden Caulfield read The Catcher in the Rye."—New York Post

"Loaded with sharp and offbeat humor."—USA Today
 
"Original, heartfelt, and sparkling with wit and intelligence. This novel will linger long in readers' memories."—School Library Journal, Starred Review
 
"A biting and witty high-school satire."—Kirkus Reviews, Starred Review
 
"Tom's narration is piercingly satirical and acidly witty."—The Bulletin of the Center for Children's Books, Starred Review
 
"King Dork is smart, funny, occasionally raunchy and refreshingly clear about what it's like to be in high school."—San Francisco Chronicle
 
"King Dork: Best Punk Rock Book Ever."—The Village Voice
 
"I love this book as much as I hated high school, and that's some of the highest praise I can possibly give."—Bookslut.com
About the Author
---
Frank Portman (aka Dr. Frank) is also the author of Andromeda Klein and the singer/songwriter/guitarist of the influential East Bay punk band the Mr. T. Experience (MTX). MTX has released about a dozen albums since forming in the mid-1980s. Frank lives in Oakland, California. Visit him online at frankportman.com, look for him on Facebook, and follow @frankportman on Twitter.
Praise For…
---
Praise for King Dork:

"Basically, if you are a human being with even a vague grasp of the English language, King Dork, will rock your world."—John Green, author of The Fault in Our Stars
 
"[No account of high school] has made me laugh more than King Dork. . . . Grade A."—Entertainment Weekly
 
"Impossibly brilliant."—Time

"Provides a window into what it would be like if Holden Caulfield read The Catcher in the Rye."—New York Post

[STAR] "Original, heartfelt, and sparkling with wit and intelligence. This novel will linger long in readers' memories."—School Library Journal, Starred
 
[STAR] "A biting and witty high-school satire."—Kirkus Reviews, Starred
 
[STAR] "Tom's narration is piercingly satirical and acidly witty."—The Bulletin of the Center for Children's Books, Starred
 
"Loaded with sharp and offbeat humor."—USA Today
 
"King Dork is smart, funny, occasionally raunchy and refreshingly clear about what it's like to be in high school."—San Francisco Chronicle
 
"King Dork: Best Punk Rock Book Ever."—The Village Voice
 
"I love this book as much as I hated high school, and that's some of the highest praise I can possibly give."—Bookslut.com
 
"Just the thing for those snarky teens."—People
 
"King Dork is smart, funny, occasionally raunchy and refreshingly clear about what it's like to be in high school."—San Francisco Chronicle
 
"This is the funniest, freshest, most original book of any kind that I have read in a very long time. It's so damn good that I'm just happy there are people like Frank Portman writing books. Period." —Megan McCafferty, author of Sloppy Firsts, Second Helpings, and Charmed Thirds
 
"Frank Portman . . . proves to be a born storyteller in this hilarious coming-of-age novel."—Chicago Sun-Times
 
"The author's biting humor and skillful connection of events will keep pages turning."—Publishers Weekly
 
"Inventive and sexy, [King Dork is] fun to read and provides endless food for thought—everything I want from a book." —Melvin Burgess, author of Doing It and Smack
 
"Portman . . . scores with a debut novel that's funny, sharp, and spot-on at portraying a teen who sees musical stardom as more attainable than scoring with a girl."—Seattle Post-Intelligencer
 
"A modern and arguably better (yes, I said it) version of the J. D. Salinger staple."—American Way
 
"King Dork is unique: a detective-story ode to hormones, teenage bands, and the books they made you read in high school. Hilarious, unflinching, and surprising from start to finish." —Ned Vizzini, author of It's Kind of a Funny Story
 
 "The MySpace generation's Catcher in the Rye."—Gawker.com
 
"The ironically self-crowned dork narrator is a terrific guide through the scary world of high school."—E! Online
 
"Channeling the wisdom of a cynical rock sophisticate through the voice of a self-conscious fourteen-year-old misfit, Frank Portman has created a winning post-punk Hardy Boy equal."-Ira Robbins, TrouserPress.com
 
"A funny, pointed poke in the eye to the bloated Catcher in the Rye cult, and also a fine alienated teen novel in its own right."—Neal Pollack, author of Never Mind the Pollacks: A Rock and Roll Novel
 
"A funny, intelligent, inspiring, can't-even-put-it-down-when-I-go-to-the-bathroom story. Seriously, I vowed to only write about this well-publicized book after I read it myself, and I'm happy to report that it's worth the hype."—Whitney Matheson in USA Today's Pop Candy
 
"This pitch-perfect mixture of Veronica Mars and Freaks and Geeks exudes realistic, self-aware teen angst on every page, and should be a permanent addition to libraries alongside Brighton Rock, A Separate Peace . . . and even Catcher."—The Oregonian
 
"The magic of King Dork lies in its cutting satire and narrative voice. It smartly skewers just about every aspect of the educational system. For readers who have suffered through a pep rally, detention or English class, Portman's arrival is cause for regal glee."—The Plain Dealer (Cleveland)
 
"Frank Portman takes on the high-school coming-of-age story with enough music what-for to satisfy the most ardent of music snobs. He also cuts to pieces Catcher in the Rye, a job you might not have known needed to be done."—SF Weekly