The Flu Pandemic and You: A Canadian Guide (Paperback)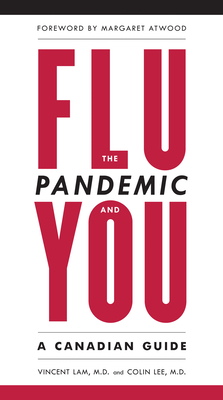 $19.95
Email or call for price
Description
---
An essential survival guide—both to pandemic influenza, and to the hype surrounding it.

Written by an emergency physician and a public health physician, The Flu Pandemic and You is a timely and forthright guide on how to prepare for an influenza pandemic, and how to understand the broader context in which this health threat exists.

With cool heads and professional expertise, Drs. Lam and Lee carefully explain how readers can assess their level of risk, and set out practical advice on how to contend with a pandemic, addressing such issues as:

• How the flu virus works and what level of threat Canadians really face
• How to help protect yourself and your family from contracting influenza
• How to identify symptoms
• What you need to know about antiviral drugs
• What to do in a worst-case scenario

The Flu Pandemic and You develops a lucid framework to help people understand the current anxiety about influenza in the context of the risks we all face in our daily lives. This crucially important book, full of reasoned, knowledgeable advice, is an indispensable resource for fearful times.
About the Author
---
DR. VINCENT LAM was an emergency physician for thirteen years and now works in addictions medicine. His work also includes expedition medicine on Arctic and Antarctic ships. His book, Bloodletting and Miraculous Cures, was awarded the Scotiabank Giller Prize. Dr. Lam is a Lecturer in the Faculty of Medicine, Department of Family and Community Medicine at the University of Toronto.

DR. COLIN LEE is a public health physician and an emergency physician. He serves on a number of infectious disease control committees at the hospital, community, and provincial levels in Ontario. His work also extends globally to developing countries.
Praise For…
---
Winner of the American Medical Writers Association's Special Recognition Award

"A calm, practical and very thorough guide." —Margaret Atwood, from the Foreword

"Lam and Lee were front line doctors during Toronto's 2003 SARS outbreak and they are superb writers." —The Vancouver Sun

"The Flu Pandemic and You: A Canadian Guide manages to be both highly informative and very reassuring. . . . The authors take us into situations we don't want to think about, like being in the same house with family members suffering from influenza, and describe the procedures that will get everyone through with the best chance of survival. Whether they're dealing with N95 masks (awkward and probably not needed) or the wisdom of getting to know your neighbours, Lam and Lee write with calm lucidity. . . . [And] they explain enough to reassure the most anxious hypochondriac. When the pandemic does hit . . . this book will be more valuable than Tamiflu." —The Tyee