Look How Happy I'm Making You: Stories (Hardcover)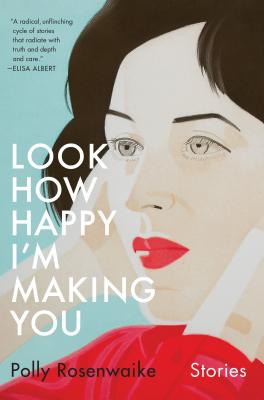 $24.95
Email or call for price
Staff Reviews
---
This beautifully constructed collection examines the many crossroads of motherhood. Here you will find your best friend, mother, sister, and maybe yourself. Every story resonates with honesty and every choice treated with tenderness. Humor and regret settle into the corners of these lives, and the many facets of motherhood are exposed. From the desperation of wanting to get pregnant to the private grief of an ending that is anything but perfect, Polly Rosenwaike's skillful prose illuminates how universal these feelings of conflict are as we contemplate the transition from being an individual to becoming a parent. —Elaine
— From
Elaine and Luisa's Picks: March - April 2019
Description
---
"Among the thousands of books for prospective and new parents, I doubt any will make you feel more understood and less alone than this one."—ANTHONY DOERR, author of ALL THE LIGHT WE CANNOT SEE

"Armed with wit, tenderness and candor, [Look How Happy I'm Making You] helps obliterate any taboos that may still exist surrounding the tribulations of women's reproductive lives."—PEOPLE MAGAZINE

A candid, ultimately buoyant debut story collection about the realities of the "baby years," whether you're having one or not

The women in Polly Rosenwaike's Look How Happy I'm Making You want to be mothers, or aren't sure they want to be mothers, or--having recently given birth--are overwhelmed by what they've wrought. Sharp and unsettling, wry and moving in its depiction of love, friendship, and family, this collection expands the conversation about what having a baby looks like.

One woman struggling with infertility deals with the news that her sister is pregnant. Another woman nervous about her biological clock "forgets" to take her birth control while dating a younger man and must confront the possibility of becoming a single parent. Four motherless women who meet in a bar every Mother's Day contend with their losses and what it would mean to have a child.

Witty, empathetic, and precisely observed, Look How Happy I'm Making You offers the rare, honest portrayal of pregnancy and new motherhood in a culture obsessed with women's most intimate choices.
About the Author
---
POLLY ROSENWAIKE has published stories, essays, and reviews in The O. Henry Prize Stories 2013, The New York Times Book Review, Glimmer Train, New England Review, The Millions, and the San Francisco Chronicle. The fiction editor for Michigan Quarterly Review, she lives in Ann Arbor with the poet Cody Walker and their two daughters.
Praise For…
---
"Nearly every imaginable experience related to reproduction and new parenthood are the territory of this incisive story collection. Armed with wit, tenderness and candor, Rosenwaike helps obliterate any taboos that may still exist surrounding the tribulations of women's reproductive lives."
—PEOPLE (Book of the Week)
 
"Each contained narrative offers a candid look into one of the most intimate choices a woman can make with humor and heart."
—GLAMOUR
 
"Rosenwaike fully inhabits the interiority of these and other women — and though they reside in overlapping spheres, each is distinct in her desires, jealousies, fears, and hopes."
—BUZZFEED

"An honest portrayal…From infertility to postpartum depression, [Rosenwaike] dares to show us the intimate conversations many women have behind closed doors. You won't believe it's her debut."
—HELLOGIGGLES
 
"Whatever your stance on becoming a mom, you'll want to read this book."
—BUSTLE

"[A] debut collection of stories that should be required reading for all women of childbearing years . . . It's a book I wish I had. . . precise, quirky and magical"
—THE LILY

"A frank, smart, poignant-without-being-sentimental story collection"
—CURTIS SITTENFELD, author of YOU THINK IT, I'LL SAY IT
 
"The stories in this collection of short fiction explore every facet of motherhood … treating the most intimate details of women's lives with ruthless attention and tender care. If you loved Danielle Lazarin's Back Talk, this is for you."
—MARY LAURA PHILPOTT, author of I MISS YOU WHEN I BLINK

"I rejoiced in this collection. A radical, unflinching cycle of stories that radiate with truth and depth and care. I could weep for how good it is to see such rich, profound narratives about women's reproductive lives. Happy tears."
—ELISA ALBERT, author of AFTER BIRTH

"With incisive pluck, Rosenwaike's stories turn an empathetic and humorous eye on the time in women's lives when the question of motherhood—-whether gained or lost or desired at all—is central. Rosenwaike fearlessly plumbs the depths of women's interior lives, giving due space to their complexity, gravity, and lightness."
—DANIELLE LAZARIN, author of BACK TALK

"Whatever choices Polly Rosenwaike's characters make, they struggle and question and find joy, and through their stories we come to understand parenthood and its influence all the more deeply. Rosenwaike's debut is funny, honest, and written with grace and empathy."
—EDAN LEPUCKI, author of WOMAN NO.17 and CALIFORNIA
 
"In this lovely collection, Polly Rosenwaike deftly traverses the season of life that is often collapsed into the shorthand "childbearing years," honoring the pain, joy, and possibility that accompanies women's reproductive lives with her nuanced and entertaining stories. I felt bereft when I came to the end."
—LYDIA KIESLING, author of GOLDEN STATE

"Each story in Look How Happy I'm Making You is a lovely universe unto itself -- funny, intimate, casually profound -- but there is something transcendent about reading them together like this. Rosenwaike's women all have different desires, different fates, different circumstances, but each of them conquers the maddening unknown of motherhood with richness and depth."
—MEAGHAN O'CONNELL, author of AND NOW WE HAVE EVERYTHING

"The world wants one story: pregnant glow, new mother tired but ever-grateful, ever-in-love. Without shying away from any of the transcendent and true beauty, Look How Happy I'm Making You shows us the many shadowed layers of pregnancy, miscarriage, birth and motherhood with an insistent bravery and searing honesty."
—RAMONA AUSUBEL, author of AWAYLAND

"Look How Happy I'm Making You is a beautifully written and beautifully conceived series of stories about, well, conception—about the harrowing and mundane and profound ramifications of trying to extend the species. Among the thousands of books for prospective and new parents, I doubt any will make you feel more understood and less alone than this one."
—ANTHONY DOERR, author of ALL THE LIGHT WE CANNOT SEE

"These stories, so artful and so visceral, help remind us that human reproduction is, despite its ubiquity, astonishing and fraught.  Polly Rosenwaike explores pregnancy and parenthood with wisdom, wit, and tender intensity."
—CHRIS BACHELDER, author of the THE THROWBACK SPECIAL

"[T]ight and intimate, sad and funny, alive with some of the ways being a mother can go right, some of the ways it can sadden and destroy."
—LYNN STEGER STRONG, author of HOLD STILL

"Deeply resonant... An exquisite collection that is candid, compassionate, and emotionally complex."
—KIRKUS *starred review*

"Striking… Rosenwaike's edgy stories are endearingly honest, excruciatingly detailed, and irresistibly intimate, expertly depicting what motherhood means to millennials."
—PUBLISHERS WEEKLY 

"The 12 stories in Rosenwaike's debut collection capture the vast and intimate moments of motherhood and womanhood... Rosenwaike's remarkable prose conjures emotions so effectively that readers will feel pulled into the characters' lives."
—BOOKLIST