A Wedding with Spirit: A Guide to Making Your Wedding (and Marriage) More Meaningful (Paperback)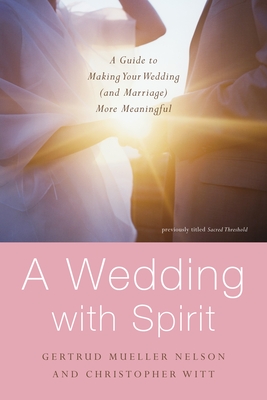 $19.00

Usually Ships in 1-5 Days
Description
---
A WEDDING WITH SPIRIT has been written for the bride and groom who are searching for something more for their wedding—not more as in bigger, grander, or more lavish, but more as in more meaningful, gracious, and sacred. Ritual and liturgy experts Gertrud Mueller Nelson and Christopher Witt have helped hundreds of couples plan their ceremonies and in these pages they have distilled their years of experience into some basic principles. Instead of trying to orchestrate "the happiest day of your life" and suffering through catering nightmares, Nelson and Witt help the couple see the wedding as a moment in the larger context of their love. To create such a wedding, A WEDDING WITH SPIRIT offers advice in general principles such as location, participants, symbols, prayers, format, readings, blessings, and music. Sections include:

* A look at the history and meaning behind familiar wedding traditions
* A walk through the ceremony (including the rites of gathering, the readings, and the exchanging of vows and rings) and the reception
* Practical advice for the invitations, the rehearsal, and the programs
* Pre-marriage guidance (including pertinent meditations and prayers) to enable the bride and groom to begin their union with a firm footing
*Three model weddings incorporating all the principles of A WEDDING WITH SPIRIT

A WEDDING WITH SPIRIT ensures that one's wedding day will be about the sacredness of a committed love between two people, about love's ability to create and nurture life, and about the faithfulness and hope that such a love gives witness to.
About the Author
---
Gertrud Mueller Nelson is known internationally as an illustrator, author, and speaker. Her books include A Wedding with Spirit, To Dance with God, and Here All Dwell Free. She lives in San Diego.

Christopher Witt is a speech consultant and coach with almost three decades of professional speaking experience. As president of San Diego–based Witt Communications, he has shown CEOs how to gain board approval and companywide support for their initiatives, helped teams of technical experts win multimillion-dollar contracts, and empowered newly promoted managers. He holds a doctorate from Catholic University of America.