Desire of the Everlasting Hills: The World Before and After Jesus (The Hinges of History) (Paperback)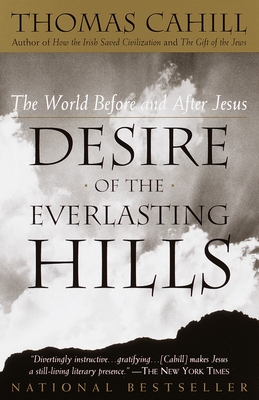 $18.95

Usually Ships in 1-5 Days
Other Books in Series
This is book number 3 in the The Hinges of History series.
Description
---
NATIONAL BESTSELLER • From the bestselling author of How the Irish Saved Civilization comes a compelling historical narrative about Jesus—an obscure rabbi from a backwater of the Roman Empire who became the central figure in Western Civilization.

"Divertingly instructive...gratifying...[Cahill] makes Jesus a still-living literary presence." —The New York Times

In his subtle and engaging investigation into the life and times of Jesus, Thomas Cahill shows us Jesus from his birth to his execution through the eyes of those who knew him and in the context of his time—a time when the Jews were struggling to maintain their beliefs under overlords who imposed their worldview on their subjects. Here is Jesus the loving friend, itinerate preacher, and quiet revolutionary, whose words and actions inspired his followers to journey throughout the Roman world and speak the truth he instilled—in the face of the greatest defeat: Jesus' crucifixion as a common criminal. Daring, provocative, and stunningly original, Cahill's interpretation will both delight and surprise.
About the Author
---
THOMAS CAHILL's appealing approach to distant history won the attention of millions of readers in North America and beyond. Cahill is the author of six volumes in the Hinges of History series: How the Irish Saved Civilization, The Gifts of the Jews, Desire of the Everlasting Hills, Sailing the Wine-Dark Sea, Mysteries of the Middle Ages, and Heretics and Heroes. They have been bestsellers not only in the United States but also in countries ranging from Italy to Brazil. He is also the author of A Saint on Death Row. He died in 2022.
Praise For…
---
"Divertingly instructive...gratifying...[Cahill] makes Jesus a still-living literary presence." —The New York Times

"Engaging...Cahill strips away the pious accretions of 2000 years so that a picture of Jesus as an actual human being emerges." —BookPage

"A deft march through time and through theology in the making...[Cahill's] own gift-giving is his ability to climb inside the scholarship and enliven it." —Philadelphia Inquirer

"Cahill constructs his stories as occassions for celebration...He seeks to encourage a sense of appreciation for the gifts offered the present from the past...Each of his books offers moments of genuine insight into the workings of culture, literature, and the human heart." —Luke Timothy Johnson, Commonweal

"Compelling...powerful...Cahill is a convivial storyteller."—Portland Oregonian