Talking from 9 to 5: Women and Men at Work (Paperback)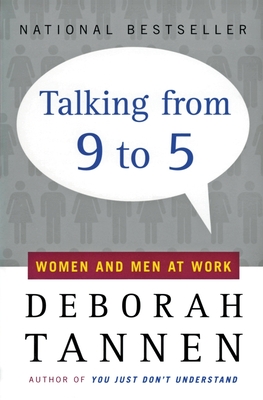 $14.99

Usually Ships in 1-5 Days
Description
---
"Required reading…sharp and insightful…lively and straightforward…a novel and sometimes startling analysis of workplace dynamics."—New York Times Book Review
In her extraordinary international bestseller, You Just Don't Understand, Deborah Tannen transformed forever the way we look at intimate relationships between women and men. Now she turns her keen ear and observant eye toward the workplace—where the ways in which men and women communicate can determine who gets heard, who gets ahead, and what gets done.
An instant classic, Talking From 9 to 5 brilliantly explains women's and men's conversational rituals—and the language barriers we unintentionally erect in the business world. It is a unique and invaluable guide to recognizing the verbal power games and miscommunications that cause good work to be underappreciated or go unnoticed—an essential tool for promoting more positive and productive professional relationships among men and women.
About the Author
---
Deborah Tannen is Professor of Linguistics at Georgetown University in Washington, D.C. Her books include the New York Times bestsellers You Just Don't Understand, You're Wearing THAT?, Talking from 9 to 5, and You Were Always Mom's Favorite!. She has written for and been featured in numerous major newspapers and magazines, including the New York Times, Newsweek, USA Today, the Washington Post, and Time.