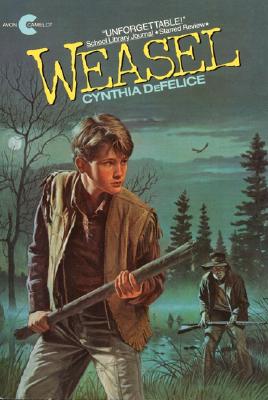 $9.99
Email or call for price
Description
---
The name has haunted my sleep and made my awake hours uneasy for as long as I can remember. Other children whisper that he is part man and part animal -- wild and blood-thirsty. But I know Weasel is real: a man, an Indian fighter the government sent to drive off the Indians -- to "remove them." Weasel has his own ideas about removal...
Now that the Shawnees are dead or have left, Weasel has turned on the settlers. Like his namesake, the weasel, he hunts by night and sleeps by day, and he kills not because he is hungry, but for the sport of it...I know what I have to do. Weasel is out there. He could come here and hurt us. Maybe Pa can wait for the day when we'll have the law to take care of men like Weasel. But I can't...
About the Author
---
Cynthia DeFelice is the highly acclaimed author of eight novels for young readers, including The Ghost of Fossil Glen, which received a starred review in SLJ and a boxed review in Booklist, and The Apprenticeship of Lucas Whitaker, which was named an ALA Notable Book and a SLJ Best Book of the Year.