Henry and Ribsy (Henry Huggins #3) (Paperback)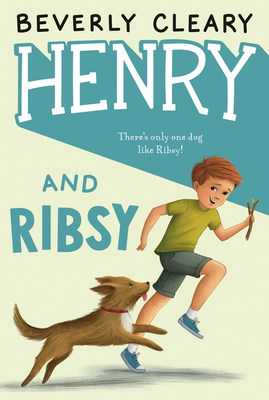 $9.99

Usually Ships in 1-5 Days
Other Books in Series
This is book number 3 in the Henry Huggins series.
Description
---
In this humorous and heartfelt novel from Newbery Medal-winning author Beverly Cleary, the bond between a boy and his dog proves strong, as Henry vows to stick up for Ribsy…even if he is a trouble-maker!
From the first moment Henry found Ribsy, the curious mutt was poking his nose into things he shouldn't be. Whether terrorizing the garbage man, chasing cats, or gobbling Ramona Quimby's ice-cream cone, Henry's four-legged pal has walked himself into one problem too many.
So when Henry asks his dad if he can go along on the big fishing trip, Mr. Huggins agrees, but on one condition: Ribsy must stay out of mischief for two whole months. Henry is confident in his loyal dog…until Ribsy goes overboard with his appetite for chaos—literally!
Don't miss the beloved classic Henry Huggins books from Beverly Cleary. These are truly timeless classics that stand the test of time and still leave readers 7-13 smiling.

About the Author
---
Beverly Cleary is one of America's most beloved authors. As a child, she struggled with reading and writing. But by third grade, after spending much time in her public library in Portland, Oregon, she found her skills had greatly improved. Before long, her school librarian was saying that she should write children's books when she grew up.
Instead she became a librarian. When a young boy asked her, "Where are the books about kids like us?" she remembered her teacher's encouragement and was inspired to write the books she'd longed to read but couldn't find when she was younger. She based her funny stories on her own neighborhood experiences and the sort of children she knew. And so, the Klickitat Street gang was born!
Mrs. Cleary's books have earned her many prestigious awards, including the American Library Association's Laura Ingalls Wilder Award, presented to her in recognition of her lasting contribution to children's literature. Dear Mr. Henshaw won the Newbery Medal, and Ramona Quimby, Age 8 and Ramona and Her Father have been named Newbery Honor Books. Her characters, including Beezus and Ramona Quimby, Henry Huggins, and Ralph, the motorcycle-riding mouse, have delighted children for generations.
Jaqueline Rogers has been a professional children's book illustrator for more than twenty years and has worked on nearly one hundred children's books.
Praise For…
---
"Genuinely funny." — ALA Booklist
"Henry's audience is in for more laughs. Another Cleary hit!" — Kirkus Reviews
"Ribsy complicates life as only a loyal, bumbling, well-intentioned mutt can. Few writers for children handle everyday comedy so briskly and realistically as Beverly Cleary." — The New York Times