Henry and Beezus (Henry Huggins #2) (Paperback)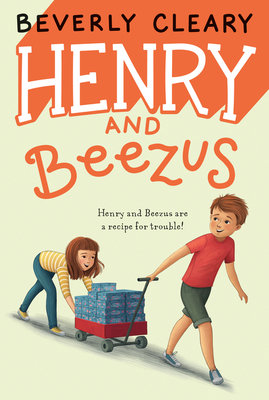 $9.99

Usually Ships in 1-5 Days
Other Books in Series
This is book number 2 in the Henry Huggins series.
Description
---
Newbery Medal winner Beverly Cleary tells the story of a boy with a goal—and the girl who helps him achieve it.
Well-meaning Henry Huggins would do anything to get the bike of his dreams. But every idea he has keeps falling flat. Selling bubble gum on the playground gets him in trouble with his teacher. There's the paper route, but Henry's dog Ribsy nearly ruins that with his nose for mischief.
Even pesky little Ramona Quimby manages to get in the way of Henry's chance at a bike. But it's with the help of his best friend Beezus that there may be a way. After all—with a friend by your side, anything is possible.
Don't miss the beloved classic Henry Huggins books from Beverly Cleary. Boys and girls alike will be charmed instantly by an average boy whose life is turned upside down when he meets a lovable puppy with a nose for mischief. These are truly classics that stand the test of time and still leave readers 7-13 smiling.
About the Author
---
Beverly Cleary is one of America's most beloved authors. As a child, she struggled with reading and writing. But by third grade, after spending much time in her public library in Portland, Oregon, she found her skills had greatly improved. Before long, her school librarian was saying that she should write children's books when she grew up.
Instead she became a librarian. When a young boy asked her, "Where are the books about kids like us?" she remembered her teacher's encouragement and was inspired to write the books she'd longed to read but couldn't find when she was younger. She based her funny stories on her own neighborhood experiences and the sort of children she knew. And so, the Klickitat Street gang was born!
Mrs. Cleary's books have earned her many prestigious awards, including the American Library Association's Laura Ingalls Wilder Award, presented to her in recognition of her lasting contribution to children's literature. Dear Mr. Henshaw won the Newbery Medal, and Ramona Quimby, Age 8 and Ramona and Her Father have been named Newbery Honor Books. Her characters, including Beezus and Ramona Quimby, Henry Huggins, and Ralph, the motorcycle-riding mouse, have delighted children for generations.
Jaqueline Rogers has been a professional children's book illustrator for more than twenty years and has worked on nearly one hundred children's books.
Praise For…
---
"Henry, Beezus and Ramona are as real as children on the next block." — Booklist
"A minor classic of a today's Tom Sawyer" — Kirkus Reviews
"A very funny sequel to Henry Huggins" — Chicago Tribune
"From his brief experience as a bubble-gum tycoon to the day he buys a bike at an auction, Henry (and Beezus) are at the center of hilarity." — School Library Journal
"Good news! Henry Huggins is back!" — English Journal