Night Soldiers: A Novel (Paperback)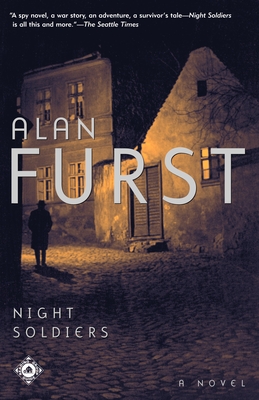 Description
---
Bulgaria, 1934. A young man is murdered by the local fascists. His brother, Khristo Stoianev, is recruited into the NKVD, the Soviet secret intelligence service, and sent to Spain to serve in its civil war. Warned that he is about to become a victim of Stalin's purges, Khristo flees to Paris. Night Soldiers masterfully re-creates
the European world of 1934–45: the struggle between Nazi Germany and Soviet Russia for Eastern Europe, the last desperate gaiety of the beau monde in 1937 Paris, and guerrilla operations with the French underground in 1944. Night Soldiers is a scrupulously researched panoramic novel, a work on a grand scale.
About the Author
---
Alan Furst, widely recognized as the master of the historical spy novel, is the author of A Hero of France, Midnight in Europe, Mission to Paris, and many other bestsellers. Born in New York, he lived for many years in Paris, and now lives on Long Island.
Praise For…
---
"A spy novel, a war story, an adventure, a survivor's tale—Night Soldiers is all this and more."
—The Seattle Times

"Night Soldiers has everything the best thrillers offer—excitement, intrigue, romance—plus grown-up writing, characters that matter, and a crisp, carefully researched portrait of the period in which our own postwar world was shaped."
—USA Today

"Intelligent, ambitious, absorbing . . . The history is deftly incorporated; the viewpoint civilized; the characters and the settings picturesque; the adventures exciting; the writing pungent."
–Walter Goodman, The New York Times

"Night Soldiers is an atmospheric journey through turbulent lands at a turbulent time, not so much a thriller as it is a panoramic, historical adventure."
–Pittsburgh Post-Gazette

"Intelligent and absorbing . . . An unusual viewpoint, solid research and unobtrusively elegant writing make this pure pleasure to read."
–Kirkus Reviews

"Evocative, moving . . . Furst shows a remarkable talent, integrating details about the cultures of Spain, France and Eastern Europe with a fascinating story of the constantly changing, constantly unpredictable events of that world at war."
–Publishers Weekly

"One of the very best novels ever written about the inner world of Soviet intelligence. . . . This fine novel, in effect the memoir so many did not live to write for themselves, is a triumph of historical imagination."
–Thomas Powers, author of The Man Who Kept the Secrets
Coverage from NPR