Jamesland (Vintage Contemporaries) (Paperback)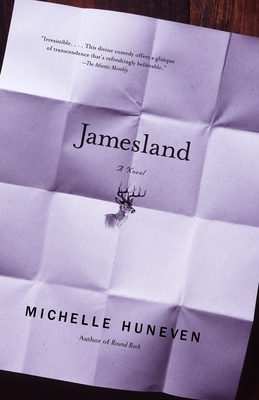 for information about purchasing this book, please contact orders@bookpassage.com
Description
---
Jamesland, the buoyant second novel by Michelle Huneven, critically acclaimed author of Round Rock, is a witty, sophisticated, and deeply humane comedy of unlikely redemption.

When thirty-three-year-old Alice Black discovers a deer in her dining room after fighting with her boyfriend, she wonders if she's going crazy. Pete Ross, forty-six, knows he's crazy. He's wrecked his marriage, slashed his wrists, and done time in a psychiatric institution, and now he's being cared for by his mother, who's a nun. Forty-five-year-old Helen Harland, a spirited Unitarian Universalist minister, is being driven crazy by her hostile church administration. Living in Los Feliz, California, the three meet at Helen's Wednesday midweek services. Though initially incompatible, the sheer force of Helen's idiosyncratic ministering (her "variety show of religious experience")–paired with Alice's illustrious ancestor William James–proves to be a catalyst for friendship and a kind of transcendence. Generous and compassionate, Michelle Huneven delivers a joyful new novel about love, faith, and a few wayward souls waiting for life to begin.
About the Author
---
Michelle Huneven received a Whiting Writers' Award in 2002, and has also won a GE Younger Writers Award in Fiction and a James Beard Award. She is presently a restaurant reviewer for the LA Weekly. Her first novel, Round Rock, was named a New York Times Notable Book and a Los Angeles Times Best Book of the Year. She lives in Altadena, California.
Praise For…
---
"Irresistible. . . . This divine comedy offers a glimpse of transcendence that's refreshingly believable." —The Atlantic Monthly
"Michelle Huneven is a writer of extraordinary and thrilling talent, and Jamesland is a marvel." —Richard Russo

"Michelle Huneven's joyous new novel, Jamesland, is the best thing for the blues since lithium. . . . Squeaking, squelching, sloshing, the hearts of Huneven's characters beat a shaky rhythm, beside which a reader's own can't help thumping along. Like Anne Tyler, whom readers found long before the prize-givers ever did--or like the foxglove, which was soothing hearts centuries before apothecaries ever pestled it into tablets–Jamesland is good for what ails you." –San Francisco Chronicle

Offbeat and vigorously written. . . . Engrossing . . . Jamesland is a winning place to while away some time." –The New York Times Book Review

"Generosity, humor and tolerance shine in Huneven's writing." –Los Angeles Times Book Review

"A delicate tale of personalities and longing. . . . The real landscape of Jamesland is an interior one, the intersection between the tangible and the not-quite-real." –The Oregonian

"A great L.A. novel. . . . One of the goals of the novel since the beginning of the form has been to realistically capture love, that ever-flitting butterfly, in its contemporary incarnation. Huneven is one of our few writers who can deliver an authentic love story, with characters as unlikely for redemption as possible, as failed and weird and hopeless as ourselves. She somehow nudges them into relationships that change the feeling of everything." –LA Weekly

"Jamesland is gold. Michelle Huneven gives as good as any reader can hope to get." –Amy Bloom

"Michelle Huneven's endearingly comic second novel, Jamesland . . . looks steadily at the convoluted relationship between religion and spirituality. . . . She regards her creations with a benevolently comic eye." –The Columbus Dispatch

"Jamesland is a blessing of a book. Michelle Huneven proves again that forgiveness has a wisdom of its own, and that real joy can grow in the compost of failure and frailties. Huneven's characters embrace each other in all their brokenhearted striving; they renew our buried hope that we all may be loved as life finds us—imperfect, lost, blameworthy, full of good intentions. The compassion in this book is a rare and welcome gift. Gracefully written, shrewd in its observations, precise in its generosity, Jamesland is a wonderful book." –Anne Michaels