The Hunters: A Novel (Vintage International) (Paperback)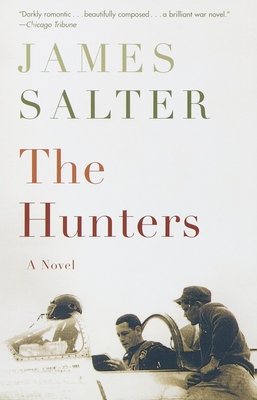 for information about purchasing this book, please contact orders@bookpassage.com
Description
---
With his stirring, rapturous first novel--originally published in 1956 --James Salter established himself as the most electrifying prose stylist since Hemingway. Four decades later, it is clear that he also fashioned the most enduring fiction ever about aerial warfare.

Captain Cleve Connell arrives in Korea with a single goal: to become an ace, one of that elite fraternity of jet pilots who have downed five MIGs. But as his fellow airmen rack up kill after kill--sometimes under dubious circumstances--Cleve's luck runs bad. Other pilots question his guts. Cleve comes to question himself. And then in one icy instant 40,000 feet above the Yalu River, his luck changes forever. Filled with courage and despair, eerie beauty and corrosive rivalry, The Hunters is a landmark in the literature of war.
About the Author
---
James Salter authored numerous books, including the novels All That Is, Solo Faces, Light Years, A Sport and a Pastime, The Arm of Flesh (revised as Cassada), and The Hunters; the memoirs Gods of Tin and Burning the Days; the collections Dusk and Other Stories, which won the 1989 PEN/Faulkner Award, and Last Night, which won the Rea Award for the Short Story and the PEN/Malamud Award; and Life Is Meals: A Food Lover's Book of Days, written with his wife, Kay Salter. He died in 2015.
Praise For…
---
"The contemporary writer most admired and envied by other writers. . . . He can . . . break your heart with a sentence."  
--Washington Post Book World

"Anyone under forty may not appreciate how profoundly Salter influenced my generation. [He] created the finest work ever to appear in print--ever--about men who fly and fight."   --Robert F. Dorr, author of F-86 Sabre

Darkly romantic. . .beautifully composed. . .a brilliant war novel." --Chicago Tribune