Pale Colors in a Tall Field: Poems (Paperback)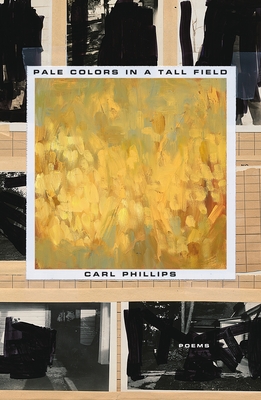 $15.00

Usually Ships in 1-5 Days
Description
---
A powerful, inventive collection from one of America's most critically acclaimed poets.

Carl Phillips's new poetry collection, Pale Colors in a Tall Field, is a meditation on the intimacies of thought and body as forms of resistance. The poems are both timeless and timely, asking how we can ever truly know ourselves in the face of our own remembering and inevitable forgetting. Here, the poems metaphorically argue that memory is made up of various colors, with those most prominent moments in a life seeming more vivid, though the paler colors are never truly forgotten. The poems in Pale Colors in a Tall Field approach their points of view kaleidoscopically, enacting the self's multiplicity and the difficult shifts required as our lives, in turn, shift. This is one of Phillips's most tender, dynamic, and startling books yet.
About the Author
---
Carl Phillips is the author of several books of poetry, including Silverchest, a finalist for the International Griffin Prize, and Double Shadow, winner of the Los Angeles Times Book Prize. He is also the author of The Art of Daring: Risk, Restlessness, Imagination. Phillips teaches at Washington University in St. Louis.
Praise For…
---
Named a Best Poetry Collection of 2020 by The Washington Post

"Almost no one, to my ear, charts the perpetually shifting moods and meanings of the interior psychic landscape as sensitively, or as beautifully, as he does. This book is one of his finest, an intoxicating cocktail of passion mixed with tentativeness, precision mixed with ambiguity, that trains our attention on the intimations of the divine that are frequently hidden in everyday landscapes and encounters." —Troy Jollimore, The Washington Post

"These poems, which are filled with longing and a sense of the poet wrestling with himself, are made up of reflections . . . While Phillips is enigmatic in these poems, he is never coy, conjuring a rich intellectual and felt life on the page for the reader." —Publishers Weekly (starred review)

"I have never heard a bad word about poet Carl Phillips, whose next collection considers the intersections of memory, colors, and forgetfulness. If we imagined our recollections as colors, what hues would they have? Which parts of ourselves would appear vividly, and which parts dim? Phillips has the ability to be both enigmatic and reassuring in his work, always going past where you think the poem aims to go, and achieving something greater . . ." —Aaron Robertson, Lit Hub

"Few poets can deliver such weight with such precision as Phillips, who again marvels in this new collection . . . Phillips is the type of writer to make us believe that, perhaps, poetry truly is the form in which story and song best breathe together." —Nick Ripatrazone, The Millions

"I read each of Carl Phillips's books for the deepest pleasures poetry can provide — intelligence, linguistic chops, mystery. I also read them as primers, field guides, breviaries: as translations of personhood, in all our flawed and searching complexity." —Lisa Russ Spaar, On the Seawall

"The vitality in Carl Phillips's latest collection of verse, Pale Colors in a Tall Field, springs from the tension found in the poet's impulse toward philosophical reflection, on the one hand, and associative boldness, on the other. The push and pull between these two impulses is central to Phillips's creative work, and it's a feature that keeps us returning to his poetry again and again." —Jason Barry, The Adroit Journal

"Carl Phillips's new poetry collection, Pale Colors in a Tall Field, is a meditation on the intimacies of thought and body as forms of resistance. The poems are both timeless and timely, asking how we can ever truly know ourselves in the face of our own remembering and inevitable forgetting. Here, the poems metaphorically argue that memory is made up of various colors, with those most prominent moments in a life seeming more vivid, though the paler colors are never truly forgotten." —The Rumpus