American Original: The Life and Constitution of Supreme Court Justice Antonin Scalia (Paperback)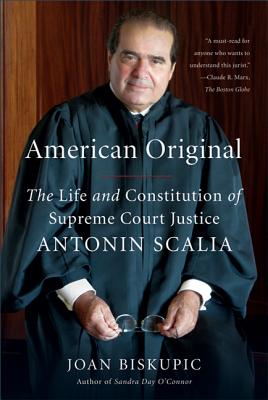 $29.00

Usually Ships in 1-5 Days
Description
---
If the U.S. Supreme Court teaches us anything, it is that almost everything is open to interpretation. Almost. But what's inarguable is that, while the Court has witnessed a succession of larger-than-life jurists in its two-hundred-plus-year history, it has never seen the likes of Supreme Court Justice Antonin Scalia.
Combative yet captivating, infuriating yet charming, the outspoken jurist remains a source of curiosity to observers across the political spectrum and on both sides of the ideological divide. But for all his public grandstanding, Scalia has managed to elude biographers—until now. In American Original: The Life and Constitution of Supreme Court Justice Antonin Scalia, the veteran Washington journalist Joan Biskupic presents for the first time a detailed portrait of this complicated figure and provides a comprehensive narrative that will engage Scalia's adherents and critics alike. Drawing on her long tenure covering the Court and on unprecedented access to the justice, Biskupic delves into the circumstances of his rise and the formation of his rigorous approach on the bench. This book shows us the man in power: his world, his journey, and the far-reaching consequences of a transformed legal landscape.
About the Author
---
Joan Biskupic has covered the Supreme Court since 1989 and currently writes for USA Today. Previously the Supreme Court reporter for The Washington Post, she is a frequent panelist on PBS's Washington Week. Biskupic holds a law degree from Georgetown University and previously authored a biography of Sandra Day O'Connor.
Praise For…
---
"Joan Biskupic has done it again. Having hit a home run in her fine biography of the quintessential centrist justice, Sandra Day O'Connor, Biskupic has now hit it far out of the park with her elegant, insightful, and eminently readable account of the life and constitutional views of the most colorful justice on the Supreme Court's right wing. For anyone who wants to understand the most influential and interesting voice of the most powerful movement in contemporary American law, this book is a must-read." —Laurence H. Tribe, Carl M. Loeb University Professor, Harvard Law School
"Biskupic is an old-fashioned reporter's reporter--hard-digging, tough-minded, but even-handed. She is also a thoughtful and shrewd judge of people. She has penetrated the Supreme Court and given us a fascinating portrait of the court's most colorful and human justice." —Evan Thomas, editor, Newsweek
"It's hard to write a fair-minded biography of such a polarizing figure, but that's what Joan Biskupic has done with 'American Original' . . . impressively balanced and well reported." —Jeffrey Rosen, The New York Times Book Review
"[American Original] will stand up over time." —Emily Bazelon, Slate
"Intellectually rigorous. . . 'American Original: the Life and Constitution of Supreme Court Justice Antonin Scalia' is a must-read for anyone who wants to understand this jurist." —Claude R. Marx, Boston Globe
"Biskupic has written a biography filled with fire, a book almost certain to anger Scalia's fans on many pages because she offers candid assessments of his flaws, as well as his strengths. Scalia's detractors will find lots of material with which to demonize him even further." —Steve Weinberg, Dallas Morning News
"A gifted storyteller . . . Biskupic is tough but fair. At age 73, Scalia remains full of piss and vinegar. If you want to know where he's likely to take his colleagues and when they'll refuse to go along with him pick up 'American Original.' Don't wait for a court order." —Glenn C. Altschuler, Tulsa World
"Impeccably researched." —Gene Warner, Buffalo News
"'American Original: The Life and Constitution of Supreme Court Justice Antonin Scalia' is full of strong reporting. It is scrupulously even-handed, which may irritate partisans on both sides of the Scalia divide--there are few fence-straddlers when it comes to him . . . Biskupic's larger accomplishment is to present the recent evolution of the Supreme Court through the prism of its most colorful member." —Jim Newton, Los Angeles Times
"It's worth checking out Joan Biskupic's new biography of Justice Antonin Scalia--American Original. . . It's the first real deep dive into his personal background (including his religion) and how it affects his decisions. Scalia is a critical figure on the Supreme Court, given its continuing shift to the right. And Biskupic does a great job in helping the reader understand where he's coming from." —Thomas Goldstein, Daily Beast, "Smart People Recommend"
"The book's real charm, however, lies in her treatment of the man. She traces the important influences on Scalia--the lessons from his immigrant parents, the centrality of his Catholic faith, the early professional experiences in the Nixon justice department--and offers a portrait of a man quite unlike any other judge. Especially against the decorous backdrop of the Supreme Court, Scalia stands out for his brashness in argument, his clever, sometimes contemptuous, prose and his willingness to express opinions in a variety of public forums. Biskupic acknowledges his intellectual brilliance but criticizes him for his tetchiness with the press, for his seeming inability to concede at least the appearance of conflicts of interest and for his willingness to depart from originalism--Bush v. Gore, anyone?--when it appears to serve his own political inclinations. Legal scholars have written more about Scalia than any other living Justice. Now, in terms of accessibility for the general reader, Biskupic gives the rest of us an inside look at what the fuss is all about . . . Every bit as provocative and entertaining as the man himself." —Kirkus Reviews (starred review)