Poems (FSG Classics) (Paperback)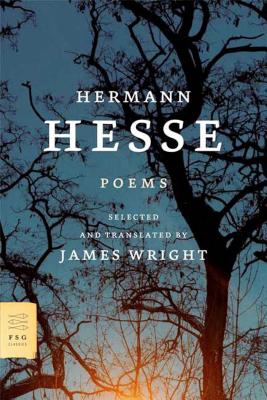 $14.00

Usually Ships in 1-5 Days
Description
---
Few American readers seem to be aware that Hermann Hesse, author of the epic novels Steppenwolf and Siddhartha, among many others, also wrote poetry, the best of which the poet James Wright has translated and included in this book. This is a special volume—filled with short, direct poems about love, death, loneliness, the seasons—that is imbued with some of the imagery and feeling of Hesse's novels but that has a clarity and resonance all its own, a sense of longing for love and for home that is both deceptively simple and deeply moving.
About the Author
---
Hermann Hesse (1877-1962) was a German poet and novelist. He received the Nobel Prize in Literature in 1962. He was the author of works including Siddhartha, Steppenwolf, and Demian.

Poetry collections by James Wright (1927-80) include The Green Wall (1957), which won the Yale Series of Younger Poets award, Saint Judas (1959), The Branch Will Not Break (1963), Shall We Gather at the River (1968), and Two Citizens (1973). Wright was elected a fellow of The Academy of American Poets in 1971, and the following year his Collected Poems received the Pulitzer Prize. He died in New York City in 1980, having served on the English faculties at the University of Minnesota, Macalester College, and Hunter College (CUNY).
Praise For…
---
"Rilke, T. S. Eliot, Gide, Thomas Mann rightly called Hesse a master… His fiction achieves the glorious anachronism of art: created in the past, it speaks to us in the present. It glorifies the strategies of attempting to become a full human being and it celebrates the nobility of failure." —Webster Schott, Life

"Hesse is a writer of suggestion, of nuance, of spiritual intimation." —Christian Science Monitor

"One of the defining spirits of our century." —Ralph Freedman, Princeton University