One Art: Letters (Paperback)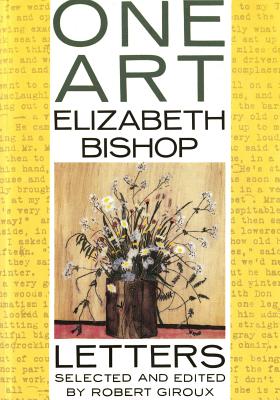 for information about purchasing this book, please contact orders@bookpassage.com
Description
---
From several thousand letters, written over fifty years - from 1928, when she was seventeen, to the day of her death, in Boston in 1979 - Robert Giroux has selected over five hundred and has written a detailed and informative introduction. One Art takes us behind Bishop's formal sophistication and reserve, displaying to the full the gift for friendship, the striving for perfection, and the passionate, questing, rigorous spirit that made her a great poet.
About the Author
---
The modern American poet Elizabeth Bishop (1911-79) received the Pulitzer Prize in 1956 for her collection Poems: North & South. A Cold Spring, the National Book Award for The Complete Poems (1969), the National Book Critics' Circle Award in 1976, and many other distinctions and accolades for her work. She was born in Worcester, Massachusetts. She traveled widely as an adult, living for years in France and then Brazil, before returning to the United States.

Robert Giroux is the editor of two collections of Elizabeth Bishop's writing, both published by Farrar, Straus and Giroux: The Collected Prose and One Art: Letters.
Praise For…
---
"A remarkable collection . . . True magic." —Richard Locke, The Wall Street Journal

"What a touching and pleasing book . . . Bishop's letters are keys to her art and her life." —Margo Jefferson, The New York Times

"These letters, funny, touching, and occasionally harrowing, remind us that this great poet was a remarkable woman as well. Don't miss them." —Michael Dirda, The Washington Post Book World

"The compiler of [this volume], Robert Giroux, was Bishop's editor and close friend. His abiding affection for her and his skillful editorial hand are everywhere at work here, from his eloquent introduction to his deft arrangement and excisions. Mr. Giroux has had a long and distinguished career in service to literature; this volume--which he probably considered a labor of love--may well prove to be his most valuable contribution . . . One Art does not quite substitute for an autobiography; there are too many important facts missing. Instead, it stands as a sort of golden treasury, to be gone through in one enthralled reading and then browsed in ever after." —J. D. McClatchy, The New York Times Book Review

"The publication of Elizabeth Bishop's selected letters is a historic event, a bit like discovering a new planet or watching a bustling continent emerge, glossy and triumphant, from the black ocean . . . Let us celebrate the appearance of this extraordinary, this quite exceptional and wonderful work." —Tom Paulin, The Times Literary Supplement