Literary Terms: A Dictionary (Paperback)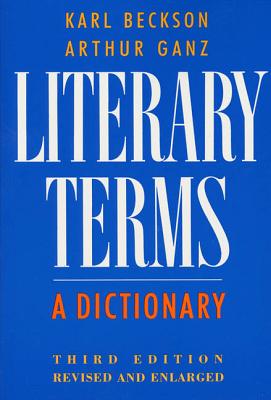 $22.00

Usually Ships in 1-5 Days
Description
---
For all those who have become entangled in the ever-burgeoning sphere of confusing literary terminology, Professors Karl Beckson and Arthur Ganz provide clear and entertaining explanations, in this, their now-classic reference work. From abecedarius to zeugma, they gracefully guide the reader through the intricacies of literary forms and ideas. Over the years, Literary Terms has been revised and enlarged as Professors Beckson and Ganz have added new entries from recent literary theory and scholarship, bringing the total number of entries to over 900. It is an indispensable asset for understanding such concepts as deconstruction, Russian Formalism, feminist criticism, psychoanalytic criticism, semiotics, and the surfeit of others that have emerged in the ongoing process of interpreting literature.
Throughout the text, numerous helpful examples drawn from a multitude of sources—nursery rhymes to Shakespeare—clarify the concepts discussed. In addition, not only the terminology itself but also the historical and philosophical background necessary to a fuller understanding of any work is examined. The result is a readable dictionary that illuminates as much as it delights, providing essential information for the student as well as the professional.
About the Author
---
Karl Beckson received his Ph.D. from Columbia and is Professor of English at Brooklyn College, City University of New York. Among the many works to his credit, he has edited Great Theories in Literary Criticism and is the author of Henry Harland: His Life and Work and Arthur Symons: A Life. He has also written a variety of articles on such figures as Wilde, Joyce, Yeats, Aubrey Beardsley, and Arthur Symon.
Arthur Ganz, who received his Ph.D. from Columbia and has taught there as a Visiting Professor, is now Professor of English at the City College of the City University of New York. The author of Realms of the Self:Variations on a Theme in Modern Drama and George Bernard Shaw, he has edited Harold Pinter: A Collection of Critical Essays and written many articles on Checkov, Synge, Giraudoux, and other modern playwrights. A recent study on Salome, Lulu, and Pelléas et Mélisande appeared in Opera Quarterly.