The Three Weissmanns of Westport (Hardcover)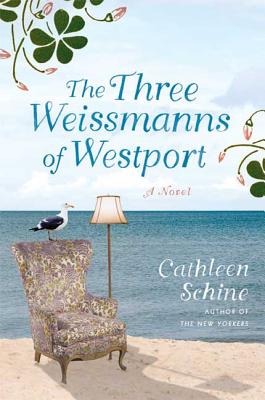 $25.00
Email or call for price
Description
---
Jane Austen's beloved "Sense and Sensibility" has moved to Westport, Connecticut, in this enchanting modern-day homage to the classic novel
"When Joseph Weissmann divorced his wife, he was seventy eight years old and she was seventy-five . . . He said the words "Irreconcilable differences," and saw real confusion in his wife's eyes."
""Irreconcilable differences?" she said. "Of course there are irreconcilable differences. What on earth does that have to do with divorce?""
Thus begins "The Three Weissmanns of Westport," a sparkling contemporary adaptation of "Sense and Sensibility "from the always winning Cathleen Schine, who has already been crowned "a modern-day Jewish Jane Austen" by "People"'s Leah Rozen.
In Schine's story, sisters Miranda, an impulsive but successful literary agent, and Annie, a pragmatic library director, quite unexpectedly find themselves the middle-aged products of a broken home. Dumped by her husband of nearly fifty years and then exiled from their elegant New York apartment by his mistress, Betty is forced to move to a small, run-down Westport, Connecticut, beach cottage. Joining her are Miranda and Annie, who dutifully comes along to keep an eye on her capricious mother and sister. As the sisters mingle with the suburban aristocracy, love starts to blossom for both of them, and they find themselves struggling with the dueling demands of reason and romance.
About the Author
---
Cathleen Schine is the author of The New Yorkers and The Love Letter, among other novels. She has contributed to The New Yorker, The New York Review of Books, The New York Times Magazine, and The New York Times Book Review.
Praise For…
---
"And off races the sparkling, crisp, clever, deft, hilarious and deeply affecting new novel by Cathleen Schine, her best yet, The Three Weissmanns of Westport . . . Schine's homage [to Jane Austen] has it all: stinging social satire, mordant wit, delicate charm, lilting language and cosseting materialistic detail . . . Schine is clearly a writer who loves to read as much as she loves to write. And it is great fun to play English major with her." —Dominique Browning, The New York Times Book Review

"Schine has been favored in so many ways by the muse of comedy . . . The Three Weissmanns of Westport is full of invention, wit, and wisdom that can bear comparison to Austen's own." —The New York Review of Books

"Schine's real wit playfully probes the lies, self-deceptions, and honorable hearts of her characters." —The New Yorker

"Schine sets the Austen machinery in perfect forward motion, and then works some lovely modern changes, keeping the pace going at a lively clip . . . Spotting the similarities and differences between the early 19th century and early 21st century stories is good sport, but the greater pleasure comes from Schine's own clever girls and their awkward attempts to find happiness." —The Boston Globe

"Swap genteel nineteenth-century England for upscale contemporary Connecticut, add two sisters—one impulsive, one practical—and stir with lively doses of romance, domestic discord, sudden setbacks, and sublime surprises, and you get Cathleen Schine's homage to Jane Austen." —Elle

"No Cathleen Schine book is without wit and sharply observed moments." —The Wall Street Journal
"A geriatric stepfather falls in love with a scheming woman half his age in Schine's Sense and Sensibility–flecked and compulsively readable follow-up to The New Yorkers. Betty Weissman is 75 when Joseph, her husband of nearly 50 years, announces he's divorcing her. Soon, Betty moves out of their grand Central Park West apartment and Joseph's conniving girlfriend, Felicity, moves in. Betty lands in a rundown Westport, Conn., beach cottage, but things quickly get more complicated when Betty's daughters run into their own problems. Literary agent Miranda is sued into bankruptcy after it's revealed that some of her authors made up their lurid memoirs, and Annie, drowning in debt, can no longer afford her apartment. Once they relocate to Westport, both girls fall in love—Annie rather awkwardly with the brother of her stepfather's paramour, and Miranda with a younger actor who has a young son. An Austen-esque mischief hovers over these romantic relationships as the three women figure out how to survive and thrive. It's a smart crowd pleaser with lovably flawed leads and the best tearjerker finale you're likely to read this year." —Publishers Weekly