The Thief Knot: A Greenglass House Story (Paperback)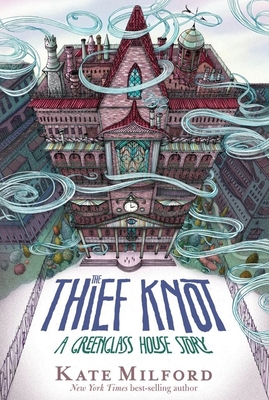 Description
---
Ghosts, a kidnapping, a crew of young detectives, and family secrets mix in this new standalone mystery set in the world of the best-selling Greenglass House, from a National Book Award nominee and Edgar Award–winning author.
 
Marzana and her best friend are bored. Even though they live in a notorious city where normal rules do not apply, nothing interesting ever happens to them. Nothing, that is, until Marzana's parents are recruited to help solve an odd crime, and she realizes that this could be the excitement she's been waiting for. She assembles a group of kid detectives with special skills—including the ghost of a ship captain's daughter—and together, they explore hidden passageways, navigate architecture that changes overnight, and try to unravel the puzzle of who the kidnappers are—and where they're hiding. But will they beat the deadline for a ransom that's impossible to pay?
 
Legendary smugglers, suspicious teachers, and some scary bad guys are just a few of the adults the crew must circumvent while discovering hidden truths about their families and themselves in this smart, richly imagined tale.
 
About the Author
---
Kate Milford is the New York Times best-selling author of the Edgar Award–winning, National Book Award nominee Greenglass House, as well as Ghosts of Greenglass House, Bluecrowne, The Thief Knot, and many more. She lives with her family in Brooklyn, New York. www.greenglasshousebooks.com and www.katemilfordwritesbooks.com,
Twitter: @KateMilford
Praise For…
---
"The Thief Knot is full of puzzles and surprising twists." — Washington Post
"[B]rimful of intrigue, plucky wannabe adventurers, and some suspiciously artful iron....Observant readers will delight in piecing together the clues to puzzle out the knots alongside the Knot....A fascinating, intricate tale of friendship and rescue." — Kirkus Reviews (starred review)
"[A] truly twisty brain-teaser filled with puzzles, misdirection, and adventure, all with just the right balance of emotional weight that is pitch-perfect for a middle-grade audience....Milford's Nagspeake stories are always a treat, but this one, with its tight, clever plotting; heartening emotional growth, and dynamic setting, shines extra brightly." — Booklist (starred review)
"This is a perfectly plotted and well-told mystery, and the fascinating settings and characters make it unique.... Readers will delight in this old-fashioned mystery, made fresh with intriguing places and people." — School Library Journal (starred review)
"[A] worthy addition to [Milford's] already established setting of Greenglass House that will also appeal to new readers....Milford's descriptive writing is a treat." — Bulletin of the Center for Children's Books
"This entry shows all of Milford's strengths: theme-expanding stories within stories, a thrilling genre fusion, swashbuckling technical mastery..., a vocabulary to delight the word-nerds, and an invented world real enough to live in. Delivering layers upon layers, convincing characters who succeed despite their emotional challenges, and a brain-tingling mystery that unfolds at just the right speed, this ghostly fantasy-adventure is a humdinger of a good read." — Horn Book Magazine
The Thief Knot "[B]rimful of intrigue, plucky wannabe adventurers, and some suspiciously artful iron....Observant readers will delight in piecing together the clues to puzzle out the knots alongside the Knot....A fascinating, intricate tale of friendship and rescue." — Kirkus Reviews (starred review)