Dorchester Terrace: A Charlotte and Thomas Pitt Novel (Paperback)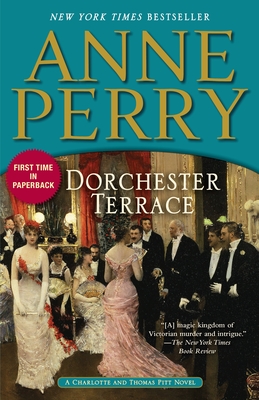 for information about purchasing this book, please contact orders@bookpassage.com
Other Books in Series
This is book number 27 in the Charlotte and Thomas Pitt series.
Description
---
"[A] magic kingdom of Victorian murder and intrigue."—The New York Times Book Review
 
Thomas Pitt is now the powerful head of Britain's Special Branch, and some people fear that he may have been promoted beyond his abilities. His own self-doubt is fueled by rumors of a plot to blow up connections on the Dover-London rail line, on which Austrian duke Alois Habsburg is soon to travel. But why destroy an entire train to kill one obscure Austrian royal? Are the rumors designed to distract police from an even more devastating plot? Meanwhile, in a London sickroom, an old Italian woman is terrified that as she sinks into dementia, she may divulge secrets from her career as a revolutionary spy. And behind the doors of a stately manor, a beautiful young Croatian woman hoards mysteries of her own. Pitt and his clever wife, Charlotte, need these two fascinating women to tell them things they desperately need to know—before death and terror ignite an international catastrophe.
 
Includes a preview of Anne Perry's next Charlotte and Thomas Pitt novel, Midnight at Marble Arch

"The always clever Anne Perry infuses Dorchester Terrace with the right amount of intrigue and complex relationships that have made this prolific series one of the finest in modern mystery fiction."—Bookreporter
 
"A classic . . . [a] novel of intrigue, romance and treason . . . replete with well-drawn characters."—Huntington News

About the Author
---
Anne Perry is the bestselling author of two acclaimed series set in Victorian England: the Charlotte and Thomas Pitt novels, including Death on Blackheath and Midnight at Marble Arch, and the William Monk novels, including Blood on the Water and Blind Justice. She is also the author of a series of five World War I novels, as well as twelve holiday novels, most recently A New York Christmas, and a historical novel, The Sheen on the Silk, set in the Ottoman Empire. Anne Perry lives in Los Angeles and Scotland.
Praise For…
---
Praise for Anne Perry's most recent Charlotte and Thomas Pitt novels
 
Treason at Lisson Grove
 
"Perry has always done her historical homework on the darker elements of the British ruling class, and she has outdone herself this time."—The Washington Times
 
Buckingham Palace Gardens
 
"An intricate plot about a murder at the palace [with] an irresistibly appealing Upstairs, Downstairs perspective . . . a fine introduction to Perry's alluring world of Victorian crime and intrigue."—The New York Times Book Review
 
"Another winner . . . a wonderful cast of characters with many twisting plots."—Vero Beach Press Journal
 
Long Spoon Lane
 
"Anne Perry has once again delivered the tasty concoction her readers have come to expect [and] presents us with moral and political puzzles that are all too close to our own."—Los Angeles Times Book Review
 
"An altogether intriguing and enjoyable mystery . . . Fans of this series, with its amazingly well-drawn historical details, know the delight of time traveling back to Victorian England."—Bookreporter.com
 
Seven Dials
 
"Terrific, vivid stuff . . . The alarmingly prolific Anne Perry [is] a master of the genre."—The Seattle Times
 
"Perry's as good as it gets. . . . The final courtroom scene produces more victims and left me breathless."—The Providence Journal