The Wednesday Sisters: A Novel (Wednesday Series #1) (Paperback)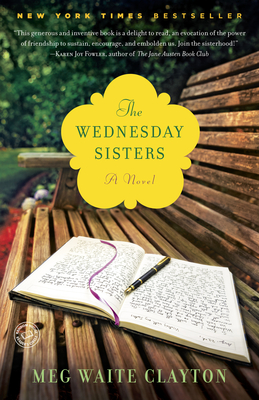 for information about purchasing this book, please contact orders@bookpassage.com
Other Books in Series
This is book number 1 in the Wednesday Series series.
Description
---
NEW YORK TIMES BESTSELLER • Friendship, loyalty, and love lie at the heart of Meg Waite Clayton's beautifully written, poignant, and sweeping novel of five women who, over the course of four decades, come to redefine what it means to be family.

For thirty-five years, Frankie, Linda, Kath, Brett, and Ally have met every Wednesday at the park near their homes in Palo Alto, California. Defined when they first meet by what their husbands do, the young homemakers and mothers are far removed from the Summer of Love that has enveloped most of the Bay Area in 1967. These "Wednesday Sisters" seem to have little in common: Frankie is a timid transplant from Chicago, brutally blunt Linda is a remarkable athlete, Kath is a Kentucky debutante, quiet Ally has a secret, and quirky, ultra-intelligent Brett wears little white gloves with her miniskirts. But they are bonded by a shared love of both literature—Fitzgerald, Eliot, Austen, du Maurier, Plath, and Dickens–and the Miss America Pageant, which they watch together every year.

As the years roll on and their children grow, the quintet forms a writers circle to express their hopes and dreams through poems, stories, and, eventually, books. Along the way, they experience history in the making: Vietnam, the race for the moon, and a women's movement that challenges everything they have ever thought about themselves, while at the same time supporting one another through changes in their personal lives brought on by infidelity, longing, illness, failure, and success.

Humorous and moving, The Wednesday Sisters is a literary feast for book lovers that earns a place among those popular works that honor the joyful, mysterious, unbreakable bonds between friends.

BONUS: This edition contains an excerpt from Meg Waite Clayton's The Wednesday Daughters.

Praise for The Wednesday Sisters

"This generous and inventive book is a delight to read, an evocation of the power of friendship to sustain, encourage, and embolden us. Join the sisterhood!"—Karen Joy Fowler, author of The Jane Austen Book Club

"I read The Wednesday Sisters in one delicious gulp. With a smart, entrancing voice, Meg Waite Clayton sweeps us into the world of the tumultuous 1960's and beyond, and gives us the gift of five young women coming into their own as friends, mothers, wives and writers. . . . Up until the last page, I found myself fervently rooting for each of them as if they were my friends too."—Lalita Tademy, author of Red Riverand Cane River
About the Author
---
Meg Waite Clayton is the author of The Language of Light, a finalist for the Bellwether Prize. Her stories and essays have appeared in Runner's World, Writer's Digest, and literary magazines. She is a graduate of the University of Michigan Law School and was a Tennessee Williams Scholar at the Sewanee Writers' Conference. She lives in Palo Alto, California, with her husband and their two sons.
Praise For…
---
"This generous and inventive book is a delight to read, an evocation of the power of friendship to sustain, encourage, and embolden us. Join the sisterhood!" —Karen Joy Fowler, author of The Jane Austen Book Club

"I read The Wednesday Sisters in one delicious gulp. With a smart, entrancing voice, Meg Waite Clayton sweeps us into the world of the tumultuous 1960's and beyond, and gives us the gift of five young women coming into their own as friends, mothers, wives and writers. The Wednesday Sisters takes their writing group as its core, and up until the last page, I found myself fervently rooting for each of them as if they were my friends too." — Lalita Tademy, author of Red River and Cane River

"Long before there were book clubs and play dates, there were the Wednesday Sisters–a group of women whose shared love of literature transports them above the pains and pitfalls of ordinary life. While these women may seem like typical suburban housewives, each character has an intriguing secret and a rich interior life that drew me into the story and held me there. This remarkable group of women demonstrates that no matter what period of history in which we live, no matter what race, creed or class we are, no matter what pains we endure, our one unifying salvation can be books. And this book reminded me of why I love to read."— Lolly Winston, author of Good Grief and Happiness Sold Separately

I simply could not put down The Wednesday Sisters.  I gave my heart to Meg Clayton's vivid characters, and I read their intertwined stories breathlessly.  Move over, Ya-ya sisters!—Amanda Eyre Ward, author of Forgive Me and How to be Lost

"Meg Waite Clayton gives us a group of spunky women–mostly young, married mothers–who make the unlikely decision in 1967 to form a writers' group. Their diverse journeys over the next years in their writing and in their lives add up to a compelling and deeply moving testament to the power of women's friendships. I simply couldn't put The Wednesday Sisters down until I'd turned the last page." —Ellen Baker, author of Keeping the House

"Richly intelligent, deeply felt and incandescently original, Clayton's book is a rhapsodic story of female friendship, set against wildly changing times and mores. Not only is the book heartbreaking, funny, and undeniably smart, but truly, this is the kind of book you don't just want to pass on to all your friends. You have to."—Caroline Leavitt, author of Girls in Trouble and Coming Back to Me