Path of Destruction: Star Wars Legends (Darth Bane): A Novel of the Old Republic (Star Wars: Darth Bane Trilogy - Legends #1) (Mass Market)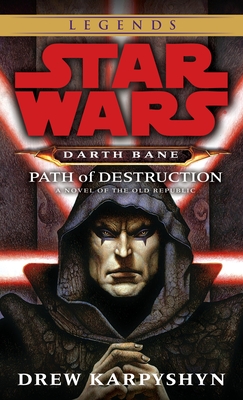 $8.99

Usually Ships in 1-5 Days
Other Books in Series
This is book number 1 in the Star Wars: Darth Bane Trilogy - Legends series.
Description
---
This essential Star Wars Legends novel is the first in a trilogy chronicling the rise of the fearsome Sith lord Darth Bane.
 
"A solid space adventure [that] charts the evolution of an antihero almost as chilling as Darth Vader."—Publishers Weekly

On the run from vengeful Republic forces, Dessel, a cortosis miner, vanishes into the ranks of the Sith army and ships out to join the bloody war against the Republic and its Jedi champions. There Dessel's brutality, cunning, and exceptional command of the Force swiftly win him renown as a warrior. But in the eyes of his watchful masters, a far greater destiny awaits him.

As an acolyte in the Sith academy, studying the secrets and skills of the dark side, Dessel embraces his new identity: Bane. But the true test is yet to come. In order to gain acceptance into the Brotherhood of Darkness, he must defy the most sacred traditions and reject all he has been taught. It is a trial by fire in which he must surrender fully to the dark side—and forge from the ashes a new era of absolute power.
About the Author
---
Drew Karpyshyn is the New York Times bestselling author of Children of Fire, The Scorched Earth, and Chaos Unleashed, as well as the Star Wars: The Old Republic novels Revan and Annihilation, and the Star Wars: Darth Bane trilogy: Path of Destruction, Rule of Two, and Dynasty of Evil. He also wrote the acclaimed Mass Effect series of novels and worked as a writer/designer on numerous award-winning videogames. After spending most of his life in Canada, he finally grew tired of the long, cold winters and headed south in search of a climate more conducive to year-round golf. Drew Karpyshyn now lives in Texas with his wife, Jennifer, and their pets.