The Story of My Father: A Memoir (Paperback)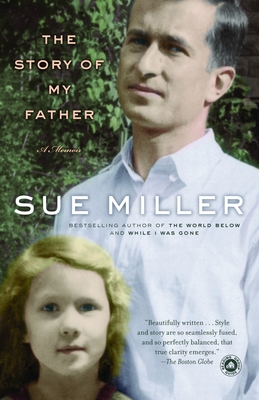 for information about purchasing this book, please contact orders@bookpassage.com
Description
---
A NEW YORK TIMES NOTABLE BOOK

In the fall of 1988, Sue Miller found herself caring for her father, James Nichols, once a truly vital man, as he succumbed to Alzheimer's disease. Beginning an intensely personal journey, she recalls the bitter irony of watching this church historian wrestle with his increasingly befuddled notion of time and meaning. She details the struggles with doctors, her own choices, and the attempt to find a caring response to a disease whose special cruelty is to diminish the humanity of those it strikes. In luminous prose, Sue Miller has fashioned a compassionate inventory of two lives, a memoir destined to offer comfort to all sons and daughters struggling to make peace with their fathers and with themselves.
About the Author
---
Sue Miller is the best-selling author of The World Below, While I Was Gone, The Distinguished Guest, For Love, Family Pictures, Inventing the Abbotts, and The Good Mother. She lives in Boston, Massachusetts.
Praise For…
---
"Deft, sincere and eloquent. . . With the care, restraint, and consummate skill that define her well-crafted and bestselling fiction, Sue Miller has now written a beautiful, compelling memoir about her father and his downward spiral into the demonic grasp of Alzheimer's disease."
—San Francisco Chronicle

"Stunning. . . A remarkable yet self-effacing testament to the vagaries of memory . . . [Miller] turns a man's simple life and tragic death into a lively and unforgettable narrative."
—Atlanta Journal-Constitution

"Deeply affecting . . . Like any memoir, this one is a way of bringing its subject back to life. . . . [This] beautifully written little book takes on the narrative power of first-rate fiction."
—Milwaukee Journal Sentinel

"Beautifully written . . . Style and story are so seamlessly fused, and so perfectly balanced, that true clarity emerges."
—The Boston Globe