Obsession: An Alex Delaware Novel (Paperback)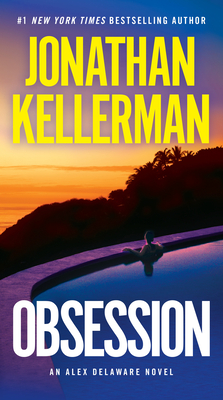 for information about purchasing this book, please contact orders@bookpassage.com
Other Books in Series
This is book number 21 in the Alex Delaware series.
Description
---
#1 WASHINGTON POST BESTSELLER • "Jonathan Kellerman's novels are an obsession; once started it is hard to quit."—Orlando Sentinel 

Tanya Bigelow was a solemn little girl when Dr. Alex Delaware successfully treated her obsessive-compulsive symptoms. Now, at nineteen, Tanya returns with a curious request: that Delaware investigate her aunt's deathbed confession of murder. While Delaware doubts that Patty Bigelow was capable of such a horrific act, he agrees to look into the matter. Armed with only the vaguest details, Delaware and LAPD detective Milo Stugris retrace Patty's and Tanya's nomadic and increasingly puzzling life. Then a very real murder tears open a terrifying tunnel into the past, where secrets—and bodies—are buried. As the tension mounts, Delaware and Sturgis uncover a tangled history of desperation, vengeance, and death—a legacy of evil that refuses to die.

Praise for Obsession

"The characters are rich, the story's well-plotted and you won't stop reading."—Boston Herald

"Filled with Kellerman's psychological insight and action-packed drama."—Toronto Sun
About the Author
---
Jonathan Kellerman is the #1 New York Times bestselling author of more than three dozen bestselling crime novels, including the Alex Delaware series, The Butcher's Theater, Billy Straight, The Conspiracy Club, Twisted, and True Detectives. With his wife, bestselling novelist Faye Kellerman, he co-authored Double Homicide and Capital Crimes. With his son, bestselling novelist Jesse Kellerman, he co-authored the first book of a new series, The Golem of Hollywood. He is also the author of two children's books and numerous nonfiction works, including Savage Spawn: Reflections on Violent Children and With Strings Attached: The Art and Beauty of Vintage Guitars. He has won the Goldwyn, Edgar, and Anthony awards and has been nominated for a Shamus Award. Jonathan and Faye Kellerman live in California, New Mexico, and New York.
Praise For…
---
"Jonathan Kellerman's novels are an obsession; once started it is hard to quit."—Orlando Sentinel 

"The characters are rich, the story's well-plotted and you won't stop reading."—Boston Herald

"Filled with Kellerman's psychological insight and action-packed drama."—Toronto Sun

Praise for the novels of Jonathan Kellerman

Gone

"The denouement accelerates to breathtaking, heart-pounding speed."—Pittsburgh Post-Gazette

"Sharply written and well-paced."—Entertainment Weekly

Rage

"[Kellerman is] a master of the grab-the-reader contest . . . The chills start within the first two pages."—Saint Paul Pioneer Press

"[An] adrenaline-fueled read."—People

Twisted

"A perfect whodunit–a tale told with gusto . . . a thrilling, engrossing pace from the first page to the last."—Orlando Sentinel

"Delivers full measures of suspense, humor, and sleuthing."—Los Angeles Times