Forty Ways to Look at JFK (Hardcover)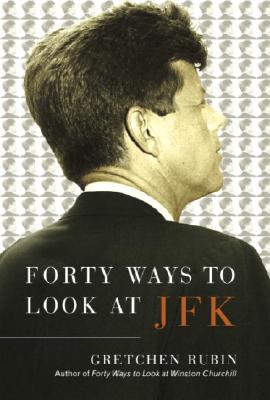 $24.95
Email or call for price
Description
---
"The great enemy of the truth is very often not the lie–deliberate, contrived, and dishonest–but the myth–persistent, persuasive, and unrealistic."
–John F. Kennedy


Statesman and hero, opportunist and fraud. John F. Kennedy's contradictions have inspired such fascination that the public's interest in him has never dimmed. Now, with the same striking technique she used in the bestselling Forty Ways to Look at Winston Churchill, Gretchen Rubin has written an enthralling new work that captures the crucial elements of Kennedy's story.

Rubin's "forty ways" approach highlights JFK's high ideals, trenchant wit, glamorous family, and unforgettable charisma; it also examines his astonishing sexual appetite, his lies to the public, his shrewd manipulation of the press, and his exploitation of imagery. By showing the many sides of JFK–ranked by the public, but not historians, as one of America's greatest presidents–Rubin invites readers to decide whether Kennedy was a great statesman or a shallow charmer; whether his success was due to his own merits or to his ruthless father; whether he could be both an unfaithful husband and a good man.

Most important, this biography seeks to solve the enduring puzzle about JFK: What made Kennedy Kennedy? What made him such a dazzling, unforgettable figure? How did he become a secular saint and a political movie star? Rubin illuminates Kennedy's provocative character and explains the source of his enduring magic as not even the most exhaustive JFK studies have managed to do.

Forty Ways to Look at JFK stands out among Kennedy biographies as a splendidly focused assessment of Kennedy's life, presidency, and myth. It is for both Kennedy fans and anyone fascinated by the impact of his personality on American culture and politics. Crisp, vivid, and brilliantly readable, it is a significant addition to the author's innovative approach to biography.
Praise For…
---
"With unusual insight and wit, Gretchen Rubin examines subjects with which we are all familiar–the legendary John F. Kennedy and the genre of biography itself–and skillfully debunks their supremacy. As both historian and conversationalist, Rubin asks the most basic questions about Kennedy's life and America's memory of that life. In doing so, she manages to create an account that, like its subject, thrives on both its accessibility and its complexity."
–President Bill Clinton

Praise for Forty Ways to Look at Winston Churchill

"A compelling read . . . Gretchen Rubin has produced a shrewd, original, and utterly engaging book, one that achieves the considerable feat of distilling an epic life to its essence while deconstructing the art of biography."
–James Atlas, author of Bellow: A Biography

"At last! A book to put all the other books on Churchill into perspective. Gretchen Rubin cuts a clear path to her subject, and along the way takes the reader on a fascinating and hilarious journey."
–Amanda Foreman, author of Georgiana: Duchess of Devonshire