Games People Play: The basic handbook of transactional analysis. (Paperback)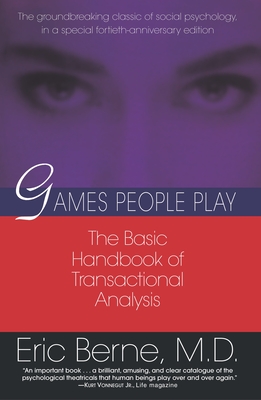 $18.00

Usually Ships in 1-5 Days
Description
---
We think we're relating to other people–but actually we're all playing games.

Forty years ago, Games People Play revolutionized our understanding of what really goes on during our most basic social interactions. More than five million copies later, Dr. Eric Berne's classic is as astonishing–and revealing–as it was on the day it was first published. This anniversary edition features a new introduction by Dr. James R. Allen, president of the International Transactional Analysis Association, and Kurt Vonnegut's brilliant Life magazine review from 1965.
We play games all the time–sexual games, marital games, power games with our bosses, and competitive games with our friends. Detailing status contests like "Martini" (I know a better way), to lethal couples combat like "If It Weren't For You" and "Uproar," to flirtation favorites like "The Stocking Game" and "Let's You and Him Fight," Dr. Berne exposes the secret ploys and unconscious maneuvers that rule our intimate lives.
Explosive when it first appeared, Games People Play is now widely recognized as the most original and influential popular psychology book of our time. It's as powerful and eye-opening as ever.
About the Author
---
Eric Berne, MD, as the originator of transactional analysis, attained recognition for developing one of the most innovative approaches to modern psychotherapy. In his writings and teachings, Dr. Berne outlined the principles of his system in such works as Transactional Analysis in Psychotherapy, The Structure and Dynamics of Organizations and Groups, Principles of Group Treatment, A Layman's Guide to Psychiatry, and What Do you Say After You Say Hello? Before his death in 1970, he was a practicing psychiatrist in California and held many important posts in psychiatric professional organizations and clinics.
Praise For…
---
"An important book . . . a brilliant, amusing, and clear catalogue of the psychological theatricals that human beings play over and over again."
–KURT VONNEGUT, Life magazine