The Argument Culture: Stopping America's War of Words (Paperback)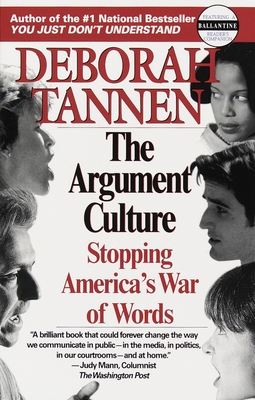 for information about purchasing this book, please contact orders@bookpassage.com
Description
---
THE WORLD'S MOST FAMOUS LINGUIST OFFERS A COMPLETELY ORIGINAL ANALYSIS OF THE WAY WE COMMUNICATE--AND A REVOLUTIONARY LANGUAGE TO LIVE BY!

In her #1 bestseller You Just Don't Understand, Deborah Tannen showed why talking to someone of the opposite sex can be like talking to someone from another world. Now Tannen is back with another groundbreaking book, this time widening her lens to examine the way we communicate in public--in the media, in politics, in our courtrooms, and classrooms--once again letting us see in a new way forces that have powerfully shaped our lives.

The war on drugs, the battle of the sexes, political turf combat--in the argument culture, war metaphors pervade our talk and influence our thinking. We approach anything we need to accomplish as a fight between two opposing sides. In this fascinating book, Tannen shows how deeply entrenched this cultural tendency is, the forms it takes, and how it affects us every day--sometimes in useful ways, but often causing damage.

The Argument Culture is a remarkable book that will change forever the way you perceive--and communicate with--the world.
About the Author
---
Deborah Tannen's You Just Don't Understand was on the New York Times bestseller list for nearly four years. A frequent guest on national television and radio, including Good Morning America, the Today show, ABC World News Tonight, 20/20, 48 Hours, and Oprah, she has been featured in and has written for such magazines and newspapers as Newsweek, Time, The New York Times, and The Washington Post. An internationally recognized scholar, she is university professor and professor of linguistics at Georgetown University in Washington, D.C.