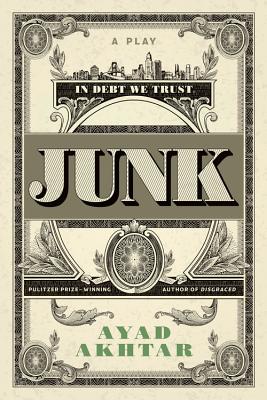 Description
---
From the author of Homeland Elegies and Pulitzer Prize winner Disgraced, a fast-paced play that exposes the financial deal making behind the mergers and acquisitions boom of the 1980s.

Set in 1985, Junk tells the story of Robert Merkin, resident genius of the upstart investment firm Sacker Lowell. Hailed as "America's Alchemist," his proclamation that "debt is an asset" has propelled him to a dizzying level of success. By orchestrating the takeover of a massive steel manufacturer, Merkin intends to do the "deal of the decade," the one that will rewrite all the rules. Working on his broadest canvas to date, Pulitzer Prize winner Ayad Akhtar chronicles the lives of men and women engaged in financial civil war: insatiable investors, threatened workers, killer lawyers, skeptical journalists, and ambitious federal prosecutors. Although it's set 40 years in the past, this is a play about the world we live in right now; a world in which money became the only thing of real value.
About the Author
---
Ayad Akhtar is a screenwriter, playwright, actor, and novelist. He is the author of the novel American Dervish and was nominated for a 2006 Independent Spirit Award for best screenplay for the film The War Within. His plays include Disgraced, recipient of the 2013 Pulitzer Prize for Drama; The Who & The What and The Invisible Hand, both of which received Off-Broadway runs and are being produced around the world; and Junk, produced at Lincoln Center in 2017 He lives in New York City.
Praise For…
---
"[A] Shakespearean history
play of spiraling national consequence." —New York Times

"Akhtar smartly
captures the amorality and toxicity of greed."—Huffington Post

"an exceptional
work."—Village Voice

"Maybe, someday, we
can live down the 1980s. But not any day soon, if Ayad Akhtar has anything to
do with it"—Variety

"engrossing from
start to finish."—AM New York

"It's a modern
Shakespeare history war play....We don't have kings and queens in America. What
we have are super successful Wall Street tycoons.— Steven Pasquale, actor

"With 17 characters, JUNK is bigger in scale than Mr.
Akhtar's previous plays, but it bears his signatures-it is fast, funny,
ruthless and dark."—Michael Sokolove, New York Times

"Forget about all the TV pundits and op-ed columnists droning on about America's problems. Playwright Ayad Akhtar is the diagnostician the nation needs to interpret its faltering health.... In JUNK: THE GOLDEN AGE OF DEBT, his thrilling new play...Akhtar takes on the equally explosive subjects of modern finance and the new religion of money. And once again he provides an unflinchingly candid cross section of attitudes and positions in which our sympathies and antipathies keep shifting along lines that are too complex to be straightforwardly ideological.... What's most impressive about JUNK is the brilliant way Akhtar crunches the social, political and economic data of this greedy new world, a precursor to the way we live today."--Charles McNulty, Los Angeles Times

"Whip-smart.... An intimate, accessible tale on an epic canvas.... Akhtar writes crackling, rapid-fire, overlapping dialogue like David Mamet, but it's infused with Shakespearean scope and pop-culture references. There are nods to the Bard's Merchant of Venice, Julius Caesar and history plays, lines from the Bible and the 1987 film Wall Street and the freewheeling exuberance of The Wolf of Wall Street."--Pam Kragen, San Diego Union-Tribune

"A massively ambitious play. It succeeds magnificently on many levels, and it should head to Broadway where it will be not only close to Wall Street, but even more accessible to those many in the public with a growing fascination in finance, economics, and social policy."--Brad Auerbach, Forbes

"JUNK unfolds like a big, blockbuster novel-lots of twists and turns, and goods and evils (okay, mostly evils). It's an epic seduction, in fact, that involves everyone in the piece. At the same time, the playwright underpins the antics with serious themes and key questions."--Jeff Smith, San Diego Reader