Time Will Tell (Hardcover)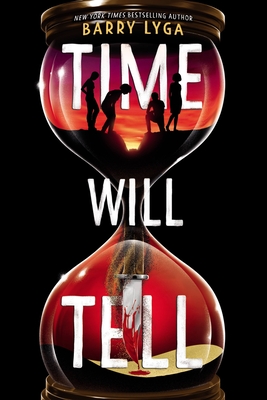 $18.99

Usually Ships in 1-5 Days
Description
---
A young-adult thriller ricocheting between the bigotry of the past and present as teens unravel their parents' secrets. Perfect for fans of One of Us is Lying -- now in paperback!

Four teens have dug up the time capsule that their parents buried in 1986 and never bothered to recover. But in addition to the expected ephemera of mixtapes, Walkmans, photographs, letters, toys, and assorted junk, Elayah, Liam, Marcie, and Jorja discover something sinister: a hunting knife stained with blood and wrapped with a note. "I'm sorry. I didn't mean to kill anyone."

As the action dramatically alternates between the present day and 1986, the mystery unfolds and the sins of the past echo into today. The teens haven't just unearthed a time capsule: they've also dug up pain and secrets that someone--maybe one of their own parents--is willing to kill for.
About the Author
---
Barry Lyga is the author of several acclaimed young adult novels, including Bang, I Hunt Killers, its sequel Game, and his debut, The Astonishing Adventures of Fanboy and Goth Girl. He now knows way too much about how to dispose of a human body. Barry lives and writes in New York City. His website is barrylyga.com.
Praise For…
---
*"Lyga (
I Hunt Killers
) grips readers at every turn in this layered and provoking mystery that tackles sexual assault, mental illness, bullying, homophobia, and racism. When Elayah (who is Black and known as El), Liam, Marcie, and Jorja (who default to white) open their parents' 1986 high school time capsule, they find analog-age relics along with a note wrapped around a bloodied knife that reads, "I'm sorry. I didn't mean to kill anyone." Convinced that the knife may be connected to her uncle Antoine, who disappeared just after homecoming that year, El is determined to investigate, even after being wounded by an unknown attacker. As they enter new relationships and engage in dangerous acts of kidnapping and subterfuge, the Maryland foursome come to question everything they know about their parents. Switching perspectives between the present-day and 1986, Lyga's novel is packed with unexpected twists and red herrings. Though the introduction of a podcaster brings unrealistic advantages to the case, razor-sharp descriptions engage throughout as Lyga demonstrates the tragic way that past actions can affect future generations."—
Publishers Weekly, starred review
Four teens try to piece together a 35-year-old mystery.
In Canterstown in the present day, four close friends—Liam, Elayah, Marcie, and Jorja—dig up a time capsule that their parents buried decades ago and find, among a few harmless keepsakes, a bloodied knife and a note that reads, "I'm sorry. I didn't mean to kill anyone." Not long after, Elayah is attacked in her own home and almost dies. Though Liam's dad is the sheriff and he says he's on the case, the four friends begin harboring suspicions against their own parents when their excuses and backstories just don't add up. Meanwhile, in 1986, the stories of Dean, Jay, and twins Marcus and Antoine unfurl, chronicling the lead-up to the burial of the capsule (and its murder weapon). As the contemporary amateur sleuths try to find answers, they risk endangering themselves further for a truth they might not want to hear. Though the novel is a bit bloated with its long list of characters and hefty page count, the central mystery and various twists will keep readers turning pages. Lyga does an excellent job of portraying a racially and sexually diverse cast, not shying away from the realities of having a marginalized identity but rather braiding those elements into the plot itself.
A twisty thriller that asks: How much do you really know about your parents? 
—
Kirkus
"
A combination of romance and mystery will grip readers in this thrilling mystery
."—
Booklist