The Devil May Dance: A Novel (Charlie and Margaret Marder Mystery #2) (Hardcover)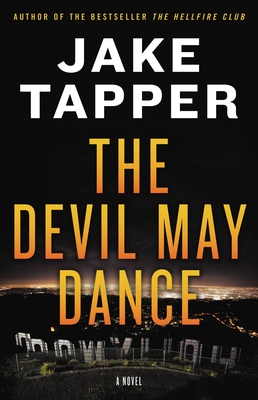 $28.00
Email or call for price
Other Books in Series
This is book number 2 in the Charlie and Margaret Marder Mystery series.
Description
---
Charlie and Margaret discover the dark side of Hollywood in Jake Tapper's follow-up to New York Times bestseller The Hellfire Club—an "excellent" cocktail of corruption and ambition (Publishers Weekly).
Charlie and Margaret Marder, political stars in 1960s Washington DC, know all too well how the tangled web of power in the nation's capital can operate. But while they long to settle into the comforts of home, Attorney General Robert Kennedy has other plans. He needs them to look into a potential threat not only to the presidency, but to the security of the United States itself.
Charlie and Margaret quickly find themselves on a flight to sunny Los Angeles, where they'll face off against a dazzling world of stars and studios. At the center of their investigation is Frank Sinatra, a close friend of President John F. Kennedy and a rumored mob crony, whom Charlie and Margaret must befriend to get the inside scoop. But in a town built on illusions, where friends and foes all look alike, nothing is easy, and drinks by the pool at the Sands and late-night adventures with the Rat Pack soon lead to a body in the trunk of their car. Before they know it, Charlie and Margaret are being pursued by sinister forces from Hollywood's stages to the newly founded Church of Scientology, facing off against the darkest and most secret side of Hollywood's power.
As the Academy Awards loom, and someone near and dear to Margaret goes missing, Charlie and Margaret find the clock is not only ticking but running out. Someone out there knows what they've uncovered and can't let them leave alive. Corruption and ambition form a deadly mix in this fast-paced sequel to
The Hellfire Club
.
About the Author
---
Jake Tapper is the author of The Hellfire Club, which is being turned into a TV series, and The Outpost, which became a celebrated film released in 2020. An award-winning anchor for CNN, he joined the network in January 2013. He lives in Washington, D.C., with his wife, daughter, and son.
Praise For…
---
"Tapper's excellent sequel to 2018's The Hellfire Club opens with a highly effective tease. . . .Tapper makes good use of the rich source material."
—
Publishers Weekly (starred review)
"Frank Sinatra, Robert Kennedy and Charlie Marder — you can't lose with this combination of characters in
The Devil May Dance
. Jake Tapper explores the thin lines between politics, pop culture and crime, and the story is always gripping, accurate and right on target when it comes to underlining that the past is prologue and politics are always played for keeps."—
Michael Connelly
"One helluva a mystery—bursting with early-'60s luminarios from Bobby Kennedy to Frank Sinatra and his swinging gang. Tapper effortlessly blends a journalist's sharp eye with a storyteller's keen sense of suspense: The result is as bracing as the bourbon the book's Rat Packers knock back and as fizzy as the champagne the Hollywood stars swig. Raise a glass."—
Gillian Flynn
"Jake Tapper's deep inside knowledge of power, greed and politics fuels this riveting page-turner. Warning: Don't start this book late at night unless you have no plans the next day." —
Harlan Coben
The Hellfire Club
"An ambitious debut, a meticulously researched work of historical fiction with a byzantine plot punctuated by explosive, Dan Brown-esque twists."—
Alexandra Alter
,
New York Times
"This is a remarkably accomplished effort, especially for a first novel. . . . Tapper brings . . . the kind of detailed political knowledge that only someone with his first-hand experience could bring to the story."—
Booklist
"Fiction is as suspenseful as truth in Jake Tapper's
The Hellfire Club.
"—
Vanity Fair
"CNN's Jake Tapper proves he has the page-turning knack in his entertaining debut novel."—
Jocelyn McClurg
,
USA Today
"The action comes fast and furious, "House of Cards" on steroids; you'll be turning pages faster than a cable channel updates its chyron."—
Cynthia Dickison
,
Minnesota Star Tribune
"Insightful... it almost feels like everything actually happened. It is fiction, however, well-written and worthwhile."—
Jeff Ayers
,
The Associated Press
"[
The Hellfire Club
is] both an engaging and slyly timely foray into Washington politics... incorporat(ing) shades of Frank Capra's Mr. Smith Goes to Washington as well as elements of contemporary toxic alliances."—
Seattle Review of Books
"Startlingly good...a reminder that the rarest thing of all in spy novels is a writer willing to give us a character who could exist just as easily in any kind of literary fiction."—
Alexander Aciman
,
Tablet
"[
The Hellfire Club
] has the best qualities of this sort of historical fiction, which include the winking perspective of the present."—
Ben Smith
,
BuzzFeed
"
The Hellfire Club
is hot summer reading"—
Tampa Bay Times
"A splashy, swampy page-turner [that] plunges readers into the heart of '50s Washington, D.C. The book showcases Tapper's passion for American political history, rich as it is with fascinating period details, as well as his feel for a story well-told."—
David Canfield
,
Entertainment Weekly
"Tapper uses his storytelling chops to deftly put you in the moment when Joe McCarthy was waving his infamous paper and the Congress was at peak skullduggery.
Hellfire
is a potent thriller, replete with well-developed characters that made me think that history does indeed repeat itself."—
David Baldacci, #1 New York Times Bestselling author of End Game
"
The Hellfire Club
's first, thrilling scene pulled me into 1950s Washington, D.C., and didn't let go until the last, satisfying page. Tapper's passions for history and politics shine through in this remarkably timely, page-turning debut."—
Alafair Burke, author of the New York Times Bestselling The Wife
"A fun, fast, gripping thriller full of real-life dirty dealmakers and legendary political power-brokers. No one knows the ins and outs of Washington politics like Jake Tapper."—
Anderson Cooper, #1 New York Times Bestselling author of Dispatches from the Edge
"Leave it to Tapper to find the truth in fiction. This great buzzsaw of a mystery is packed with indecent politicians and secret societies - making the 1950s setting just as relevant today. The scariest part of
The Hellfire Club
is that it proves Washington - and America - is forever mourning for the past."—
Brad Meltzer, The Escape Artist
"Here's your chance to get up close and personal with John and Bobby Kennedy, Nixon, Eisenhower, Kefauver, LBJ and Joe McCarthy. Jake Tapper puts you right back in the 50's. At the same time, Tapper has written a superior thriller that I couldn't stop reading. To be completely honest though, Tapper is an irritating bastard. Journalists like him are supposed to be writing dusty non-fiction tomes that help us get to sleep, not thrillers that keep us up half the night.
The Hellfire Club
is a helluva good read. Now Tapper should return to writing non-fiction."—
James Patterson, #1 New York Times Bestselling author
"From the moment you enter
The Hellfire Club
's world of suspense and intrigue and sex and danger, you won't want to leave. The swampy world of 1954 Washington DC feels vividly relevant in our current day politics. A must read!"—
Shonda Rhimes