On the Clock: What Low-Wage Work Did to Me and How It Drives America Insane (Paperback)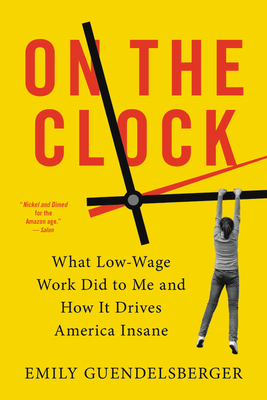 $17.99

Usually Ships in 1-5 Days
Description
---
"Nickel and Dimed for the Amazon age," (Salon) the bitingly funny, eye-opening story of finding work in the automated and time-starved world of hourly low-wage labor
After the local newspaper where she worked as a reporter closed, Emily Guendelsberger took a pre-Christmas job at an Amazon fulfillment center outside Louisville, Kentucky. There, the vending machines were stocked with painkillers, and the staff turnover was dizzying. In the new year, she travelled to North Carolina to work at a call center, a place where even bathroom breaks were timed to the second. And finally, Guendelsberger was hired at a San Francisco McDonald's, narrowly escaping revenge-seeking customers who pelted her with condiments.

Across three jobs, and in three different parts of the country, Guendelsberger directly took part in the revolution changing the U.S. workplace. Offering an up-close portrait of America's actual "essential workers," On the Clock examines the broken social safety net as well as an economy that has purposely had all the slack drained out and converted to profit. Until robots pack boxes, resolve billing issues, and make fast food, human beings supervised by AI will continue to get the job done. Guendelsberger shows us how workers went from being the most expensive element of production to the cheapest - and how low wage jobs have been remade to serve the ideals of efficiency, at the cost of humanity.

On the Clock explores the lengths that half of Americans will go to in order to make a living, offering not only a better understanding of the modern workplace, but also surprising solutions to make work more humane for millions of Americans.
About the Author
---
Emily Guendelsberger has worked at Philadelphia City Paper, the Onion's A.V. Club, Philadelphia Weekly, and the Philadelphia Daily News, and has contributed to the Philadelphia Inquirer, the Washington Post, Politico magazine, and Vice.
Praise For…
---
"Guendelsberger paints
a down-to-earth, accessible primer on how dehumanizing and exploitative
American wage labor can be-and what can be done to change it."—Vanity Fair

"Nickel and Dimed for the Amazon age."—Salon

"Emily Guendelsberger gives a sense of just how far we are from that dream in On the Clock, a jaunty but dispiriting memoir of her work at three low-rung jobs: at a call center, a McDonald's, and an Amazon warehouse."—Caleb Crain, The New Yorker

"Seen from Guendelsberger's point of view, America's working class is quivering in stress and fear, hurting from torn-up feet, and all covered in honey mustard. The economic miseries inflicted on working-class people are bad enough, but here Guendelsberger has identified something deeper and arguably worse...We've been brutalized, bullied, and baited into being trained work-animals and not even afforded a corresponding. No wonder our society fell apart."—The New Republic

"The understanding that Guendelsberger brings after struggling, even in her somewhat cosplaying way, makes On the Clock the sort of exposé Upton Sinclair would have been proud of."—The Houston Chronicle

"In a timely and important look at the harsh realities of the modern American workplace, journalist Emily Guendelsberger recounts her experiences doing hourly labor all over the country: at a Louisville-based Amazon warehouse, a North Carolina call center and a San Francisco McDonald's."—Laura Pearson, Chicago Tribune, 25 Hot Books of the Summer

"Emily Guendelsberger's On the Clock is among the best of these new accounts of multibillion dollar corporations maximizing profit at the expense of their workforce. In Guendlesberger's case, there are some familiar villains-Amazon and McDonald's-along with a call center job, but what really separates this diaristic account is that it's funny. Which I suppose you have to be when you're doubleshifting in an Amazon warehouse a month before Christmas and the vending machines are stocked with painkillers and you don't even know if you'll have a job in the New Year. Haha!"—Jonny Diamond, Lit Hub Editor-in-Chief

"ON THE CLOCK reads like a dystopian travelogue, the deckhand's journal from a flaming garbage barge on the shoals of late-stage capitalism. Guendelsberger's journey 'in the weeds' of low-wage America is mordantly funny, devastating and rigorous, a broadside against the exploitation of the many by the few and a warning of how easily our sociopathic economy could all come crashing down, leaving even C-suite executives to subsist on ketchup packets and worthless stock options."—Jessica Bruder, author of Nomadland: Surviving America in the Twenty-First Century

"When former Onion editor Emily Guendelsberger explores how the non-college majority scrapes by, she uncovers a Darwinian hellscape where the richest man on earth munificently bestows painkillers upon his warehouse serfs, telemarketers pitch products to the newly bereaved, and the customer is always right-even when she's lobbing McNugget sauce at your head. Filled with compassion, fury, and an invigorating dose of hope, On The Clock is the laugh-till-you-cry exposé our laugh-till-you-cry nation deserves."—Daniel Brook, author of The Trap: Selling Out to Stay Afloat in Winner-Take-All America, A History of Future Cities, and The Accident of Color: A Story of Race in Reconstruction

"ON THE CLOCK is a bracing, revealing tour through realms of the low-wage economy that remain invisible to too many Americans. Emily Guendelsberger is a compelling guide into this world, recounting her experiences in prose that is both barbed and appealing. ON THE CLOCK is the NICKEL AND DIMED for our even more harried and dehumanizing times."

—Alec MacGillis, author of The Cynic: The Political Education of Mitch McConnell

"Guendelsberger can go from light-hearted to dead-serious on a dime, writing with a conversational, contemporary, and heavily footnoted bent...This clear inheritor to Barbara Ehrenreich's seminal Nickle and Dimed (2001) is bound to open eyes and change minds."—Annie Bostrom, Booklist

"Guendelsberger's narration is vivid, humorous, and honest; she admits to the feelings of despair, panic, and shame that these jobs frequently inspire, allowing for a more complex and complete picture of the experience. This is a riveting window into minimum-wage work and the subsistence living it engenders."—Publishers Weekly

"Detailed, intelligent, and well-researched, the book provides a sobering look at the inhuman world of blue-collar work while suggesting that creation of a better world starts by connecting to others who also believe 'the status quo is cruel and ridiculous.' An eye-opening, unrelenting exposé that uncovers the brutal wages of modern global capitalism. A natural choice for fans of Nickel and Dimed."—Kirkus

"At turns biting, darkly funny, and infuriating, On the Clock acts as a sort of spiritual successor to Barbara Ehrenreich's seminal 2001 book Nickel and Dimed."—IndyWeek