Infinity Gate (The Pandominion #1) (Paperback)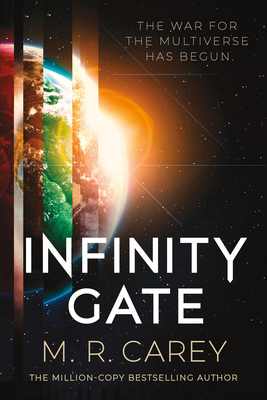 Other Books in Series
This is book number 1 in the The Pandominion series.
Description
---
"An immense achievement, an impeccably crafted book without a single word out of place." —The New York Times 

From bestselling author M. R. Carey comes a brilliant genre-defying story of humanity's expansion across millions of dimensions—and the AI technology that might see it all come to an end. 
 
INFINITY IS ONLY THE BEGINNING.
The Pandominion: a political and trading alliance of a million worlds. Except that they're really just one world, Earth, in many different realities. And when an A.I. threat arises that could destroy everything the Pandominion has built, they'll eradicate it by whatever means necessary.
Scientist Hadiz Tambuwal is looking for a solution to her own Earth's environmental collapse when she stumbles across the secret of inter-dimensional travel, a secret that could save everyone on her dying planet. It leads her into the middle of a war on a scale she never dreamed of. And she needs to choose a side before every reality pays the price.
"A fascinating window onto a dangerous and multifaceted universe."
—Adrian Tchaikovsky, author of
Children of Time
"A genuine treat for SF fans: an epic multiverse tale that moves like a thriller."
—
Kirkus
(starred review)
"Readers will be wowed.
" —
Publishers Weekly
(starred review)
"Infinity Gate, with its in-depth science and rich characterization, is a must-read."
—
Booklist
(starred review)  
About the Author
---
M. R. Carey has been making up stories for most of his life. His novel The Girl With All the Gifts was a USA Today bestseller and is a major motion picture based on his BAFTA-nominated screenplay. Under the name Mike Carey he has written for both DC and Marvel, including critically acclaimed runs on X-Men and Fantastic Four, Marvel's flagship superhero titles. His creator-owned books regularly appear in the New York Times bestseller list. He also has several previous novels, two radio plays, and a number of TV and movie screenplays to his credit.
Praise For…
---
"[A] brilliant dimension-hopping sci-fi thriller... Readers will be wowed." —Publishers Weekly (Starred Review)

"The plot doesn't map onto a traditional hero's journey arc and feels all the fresher for it. Short, action-packed chapters keep the pace brisk, and each character we meet, however briefly, is vividly and empathetically drawn. A genuine treat for SF fans: an epic multiverse tale that moves like a thriller."—Kirkus (Starred Review)

"Infinity Gate, with its in-depth science and rich characterization, is a must-read for sf fans."—Booklist (Starred Review)

"An immense achievement, an impeccably crafted book without a single word out of place."—The New York Times

"Big and bold... The writing is vivid, the pace is fast-moving."—Wall Street Journal

"Infinity Gate is a powerful exploration of the near-future, skillfully and seamlessly weaving different realities and different iterations of AI. In other hands, this might be messy, but Carey has the experience, imagination and verve to pull it off. A must-read!"—Tade Thompson, author of Rosewater

"A master storyteller." —io9

"A fascinating window onto a dangerous and multifaceted universe."—Adrian Tchaikovsky, author of Children of Time

"They say there's nothing new under the sun. Well, M. R. Carey heard this and invented a whole new sun to put new things under. This is gripping, unrelenting, and absolutely unique. Top-notch science fiction, thrilling and thoughtful at the same time."—Seanan McGuire, author of Every Heart a Doorway

"M. R. Carey reaffifirms his place in the ranks of SF with this startlingly good novel. Fans of Adrian Tchaikovsky will love it."—Paul Cornell

"Carey writes with compassion and fire - strange and surprising and humane."
—Lauren Beukes, author of The Shining Girls on The Boy on the Bridge

"M.R. Carey hefts astonishing storytelling power with plainspoken language, heartbreaking choices, and sincerity like an arrow to the heart." —Locus on The Book of Koli

"A thought-provoking and deeply engaging story ... profoundly and doggedly humane."—C. A. Fletcher on The Book of Koli

"Heartfelt, remorseless and painfully human...as fresh as it is terrifying. A jewel."—Joss Whedon on The Girl With All the Gifts