The Night Fire (A Renée Ballard and Harry Bosch Novel #22) (Hardcover)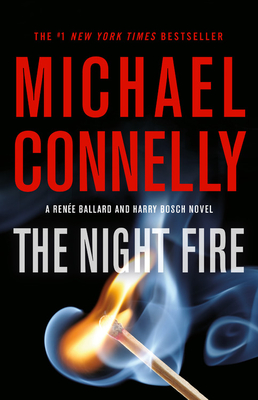 $29.00
Email or call for price
Other Books in Series
This is book number 22 in the A Renée Ballard and Harry Bosch Novel series.
Staff Reviews
---
The twenty-second book in the Harry Bosch series follows Bosch and LAPD Detective Renée Ballard as they come together to work on the murder case that haunted Bosch's mentor. Passed on by his mentor's widow, the case seems to be that of an ordinary drug deal gone wrong, but Ballard discovers that pieces of the initial investigation don't add up. The bond between Bosch and Ballard tightens as they become a formidable investigation team, however their inquiries soon lead them to a troubling question: did Bosh's mentor steal the record of the case to work it in retirement, or to make sure it was never solved? Written with masterful pacing and suspense, The Night Fire burns on the heels of Bosch and Ballard as they race toward the case's conclusion.
— From
Fiction Holiday Picks 2019
Description
---
A FINALIST FOR THE LOS ANGELES TIMES BOOK PRIZE

A NEW YORK TIMES BOOK REVIEW BEST CRIME NOVEL OF THE YEAR
A CrimeReads Best Crime Novel Notable selection
Harry Bosch and LAPD Detective Renée Ballard come together again on the murder case that obsessed Bosch's mentor, the man who trained him---new from #1 New York Times bestselling author Michael Connelly

Back when Harry Bosch was just a rookie homicide detective, he had an inspiring mentor who taught him to take the work personally and light the fire of relentlessness for every case. Now that mentor, John Jack Thompson, is dead, and his widow gives Bosch a murder book, one that Thompson took with him when he left the LAPD twenty years before -- the unsolved killing of a troubled young man.

Bosch takes the murder book to Detective Renée Ballard and asks her to help him discover what about this crime lit Thompson's fire all those years ago. As she begins her inqueries -- while still working her own cases on the midnight shift -- Ballad finds aspects of the initial investigation that just don't add up.

The bond between Bosch and Ballard tightens as they become a formidable investigation team. And they soon arrive at a disturbing question: Did Thompson steal the murder book to work the case in retirement, or to make sure it never got solved?
Written with the intense pacing and masterful suspense that have made Michael Connelly "the hard-boiled fiction master of our time" (NPR), The Night Fire continues the unofficial partnership of two fierce detectives determined not to let the fire with burn out.
About the Author
---
Michael Connelly is the author of thirty-two previous novels, including the #1 New York Times bestsellers Dark Sacred Night, Two Kinds of Truth, and The Late Show. His books, which include the Harry Bosch series and Lincoln Lawyer series, have sold more than seventy-four million copies worldwide. Connelly is a former newspaper reporter who has won numerous awards for his journalism and his novels. He is the executive producer of Bosch, starring Titus Welliver, and the creator and host of the podcast Murder Book. He spends his time in California and Florida.
Praise For…
---
"The Night Fire offers more than a few incendiary surprises."—Paula L. Woods, Los Angeles Times

"Connelly is the
Raymond Chandler of this generation, and readers will be studying his writing
methods decades from now. He has created another novel that feels authentic on
every level, and the underlying theme of mortality running through the
narrative makes everything in the story more urgent."—Jeff Ayers, Associated Press

"There's something for everyone in this jam-packed
plot: murder, arson, professional rivalry, salty cop talk and noisy domestic
disputes that turn very ugly very quickly. Me, I go for the procedural details:
who does what and how things get done from the minute the cops on shift at the
Hollywood Division are sent to investigate a murder. Connelly is pretty much
the current dean of procedural writers."—Marilyn Stasio, New York Times Book Review

"Breathless action...deep character studies...The Night Fire is Connelly's twenty first outing with Bosch, but the author has so much more to show us about him. Only three books in, Ballard has even more fodder for Connelly to uncover. In The Night Fire, Connelly again shows his mission: strong plots and sturdy characters."—Oline Cogdill, Sun Sentinel

"A virtuoso performance...The Night Fire glows with the instincts and intelligence Bosch and Ballard bring to their pursuit of the truth."—Collette Bancroft, Tampa Bay Times

"One of the
greatest crime writers of all time...Connelly continues to deliver winner after
winner, year in and year out...reading one of his books is an
experience unlike anything else the genre has to offer."—Ryan Steck, Crimereads

"Connelly
is without peer when it comes to police procedurals, and once again proves that
he's the modern master of the form."—Publishers Weekly (starred review)

"Remarkable narrative legerdemain...Not only has Connelly created another fully formed series lead in Renée, who has her own fascinating backstory, but he has also forged a fascinating yin-and-yang relationship between the old school Harry and the unconventional loner Renèe...Master chef Connelly has once again combined familiar ingredients into a new and completely satisfying dish. Connelly is on a roll, with three consecutive number-one New York Times bestsellers. Don't bet against number four."—Bill Ott, Booklist (starred review)

"Connelly
manages to top himself with his latest intensely gripping thriller...He
tells a superb tale with an economy of words using a no-nonsense,
fly-on-the-wall style of writing...Fans of this prolific author of crime dramas
and either series will find this best-seller-list-bound novel hard to put down."—Library Journal (starred review)

PRAISE FOR DARK SACRED NIGHT:

"Spectacular...Dark Sacred Night is ingenious, frantically suspenseful, and very, very bleak."—Maureen Corrigan, Washington Post

"Readers know that when they pick up a Michael Connelly novel they will get a compelling and well-written dive into the world of crime and law enforcement...What makes Connelly so much better than most crime fiction writers is that his police detectives are human and real. The combination is quality."—Jeff Ayers, Associated Press

"Michael Connelly is superhuman...His hallmark has been his precise, faultless plotting...He's always been especially good when it comes to truly creepy killers, and his denouement here is thrilling."—Charles Finch, USA Today

"It was only last year that Connelly introduced Ballard, a fierce and fascinating new protagonist who instantly emerged as a reader favorite. Bosch, meanwhile, is a grizzled veteran by now; Dark Sacred Night marks the 21st novel to center on him. But fans always finish eager to come back for more."—David Canfield, Entertainment Weekly

"One of the best and most affecting Bosch novels since Mr. Connelly began the Bosch saga in 1992...It seems as is the vulnerable Harry Bosch has met the sympathetic Renée Ballard just in the nick of time."—Tom Nolan, Wall Street Journal