The Official MIND Diet: A Scientifically Proven Program to Lose Weight and Prevent Cognitive Decline (Hardcover)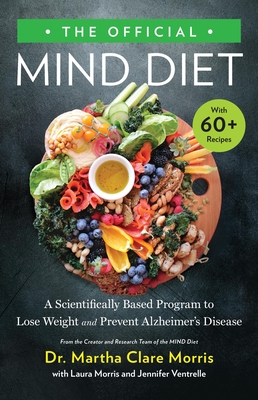 Description
---
From the creator of the MIND diet and author of Diet for the MIND, the definitive guide to eating for fitness, optimum cognitive health, and longevity.

Dr. Martha Clare Morris's MIND diet took the nutrition world by storm when it revealed the deep link between diet and cognitive health, particularly as we age. Lauded by scientists, doctors, and organizations like the AARP and US News & World Report, the MIND diet, which combines elements of the Mediterranean and DASH diets, offers hope for an easy, non-invasive, and effective way to lose weight, prevent cognitive decline, reduce the risk of developing Alzheimer's disease, and promote vibrant brain health well into advanced age.
 
In The Official MIND Diet, nationally renowned epidemiologist Dr. Morris presents, for the first time, the complete results from her long-running study. The Official MIND Diet is a practical, day-by-day guide to improving your brain health for life by adjusting what you eat. With more than 50 mouth-watering recipes for every meal of the day, and fascinating, easy-to-understand science, The Official MIND Diet is your roadmap to weight loss, vitality, and a lifetime of delicious eating and optimal cognitive function.
 
About the Author
---
Dr. Martha Clare Morris was a Professor of Epidemiology, the Assistant Provost for Community Research and the Director of the Rush Institute for Healthy Aging and the MIND Center for Brain Health at Rush University in Chicago. She received her doctorate in epidemiology from the Harvard T.H. Chan School of Public Health and served as the Principal Investigator of multiple studies that investigate dietary risk factors for the development of Alzheimer's disease, cognitive decline, and other common chronic conditions of older people. She led a team of researchers at Rush University Medical Center to develop the MIND Diet.

Laura Morris is a professionally trained chef, certified personal trainer, and certified nutrition consultant, who co-wrote the book Diet for the MIND with Dr. Martha Clare Morris, which was published in 2017. She has worked with a variety of age groups and special populations on the education and implementation of nutrition, food preparation and exercise programs for healthy living.

Jennifer Ventrelle, MS, RDN is a registered dietitian nutritionist certified in adult weight management, a certified personal trainer, and a mindfulness meditation teacher in the departments of Preventive Medicine and Clinical Nutrition at Rush University Medical Center. She was the Lead Dietitian on the MIND Diet Trial to Prevent Alzheimer's Disease and co-directs the interventions for the U.S. POINTER Study, the largest clinical trial exploring the impact of lifestyle on cognitive decline in the U.S. Jennifer is the founder of CHOICE Nutrition and Wellness, LLC, partnering with individuals and organizations interested in integrative wellness and behavior change for healthy living.