Consider the Platypus: Evolution through Biology's Most Baffling Beasts (Hardcover)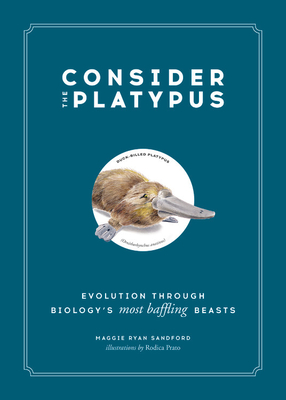 $29.99

Usually Ships in 1-5 Days
Description
---
*FINALIST FOR THE 2020 GENERAL NONFICTION MINNESOTA BOOK AWARDS*
Interested in the origins of the species? Consider the Platypus uses pets such as dogs and cats as well as animal outliers like the axolotl and naked mole rat to wittily tackle mind-bending concepts about how evolution, biology, and genetics work.
Consider the Platypus
explores the history and features of more than 50 animals to provide insight into our current understanding of evolution. Using Darwin's theory as a springboard, Maggie Ryan Sandford details scientists' initial understanding of the development of creatures and how that has expanded in the wake of genetic sequencing, including the:
Peppered Moth, which changed color based on the amount of soot in the London air;
California Two-Spotted Octopus, which has the amazing ability to alter its DNA/RNA not over generations but during its lifetime;
miniscule tardigrade, which is so hearty it can withstand radiation, lack of water and oxygen, and temperatures as low as -328°F and as high 304 °F;
and, of course, the platypus, which has so many disparate features, from a duck's bill to venomous spur to mammary patches, that scientists originally thought it was a hoax.
Surprising, witty, and impeccably researched, Sandford describes each animal's significant features and how these have adapted to its environment, such as the zebra finch's beak shape, which was observed by Charles Darwin and is a cornerstone of his Theory of Evolution. With scientifically accurate but charming art by Rodica Prato,
Consider the Platypus
showcases species as diverse as the sloth, honey bee, cow, brown kiwi, and lungfish, to name a few, to tackle intimidating concepts is a accessible way.
About the Author
---
Maggie Ryan Sandford is a science journalist, broadcast media producer, researcher, award-winning comedy writer, speaker, and performer. She has been published in Smithsonian, Slate, Nautili.us, National Geographic, mental floss, Glamour, ComedyCentral.com, The Onion's A.V Club, and appeared regularly on All Things Considered and Freakonomics Tell Me Something You Don't Know. She also worked as a research associate at the Science Museum of Minnesota, where she studied the way people engage with science. She lives in St. Paul, Minnesota.
Rodica Prato's award-winning pen-and-ink work has appeared in numerous magazines, newspapers, books and advertisements, including many of Martha Stewart's books; the official map of the Brooklyn Botanic Garden, drawn tree by tree; the Steinway history 88 Keys; a number of Garrison Keillor's covers, and detailed illustrations for The White House Historical Association. She lives in New York City.

Praise For…
---
"I have met Maggie Ryan Sandford, and I have read her work. And I am confident that she is the ideal woman to explain why dolphins are weird."—Chuck Klosterman

"Consider the Platypus is a marvelously fun book, one that encourages the reader to think about evolution from new angles by exploring the "oddballs of the animal kingdom," who are some of the favorite animals of evolutionary biologists."—American Scientist

A pre-blurb from Mary Roach, who doesn't blurb:"Oh man, everyone should be writing science in oversized graphic form, especially about evolution. Everyone loves weird animals. I'm envious."—Mary Roach

"Science buffs and animal lovers will gravitate to Consider the Platypus.... If you're intrigued by DNA-altering octopuses, radiation-withstanding tardigrades, and venomous platypuses, then you should pick [it] up!"—-Ars Technica

"In Consider the Platypus, science journalist Maggie Ryan Sandford examines the curious species [of platypus] and more than 40 others of particular interest to the study of evolution... In cheery, pun-filled prose, she reviews the physical characteristics of the species, sketches its development and considers the evolutionary lesson it has to teach."—Wall Street Journal's "What to Give: Books on Nature"