Money: The True Story of a Made-Up Thing (Hardcover)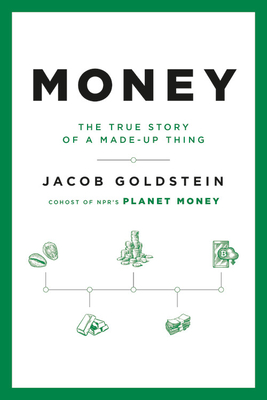 Description
---
The co-host of the popular NPR podcast Planet Money provides a well-researched, entertaining, somewhat irreverent look at how money is a made-up thing that has evolved over time to suit humanity's changing needs.
Money only works because we all agree to believe in it. In Money, Jacob Goldstein shows how money is a useful fiction that has shaped societies for thousands of years, from the rise of coins in ancient Greece to the first stock market in Amsterdam to the emergence of shadow banking in the 21st century.
At the heart of the story are the fringe thinkers and world leaders who reimagined money. Kublai Khan, the Mongol emperor, created paper money backed by nothing, centuries before it appeared in the west. John Law, a professional gambler and convicted murderer, brought modern money to France (and destroyed the country's economy). The cypherpunks, a group of radical libertarian computer programmers, paved the way for bitcoin.
One thing they all realized: what counts as money (and what doesn't) is the result of choices we make, and those choices have a profound effect on who gets more stuff and who gets less, who gets to take risks when times are good, and who gets screwed when things go bad.
Lively, accessible, and full of interesting details (like the 43-pound copper coins that 17th-century Swedes carried strapped to their backs), Money is the story of the choices that gave us money as we know it today.

About the Author
---
Jacob Goldstein is the host of the podcast What's Your Problem? Previously, he hosted NPR's Planet Money for more than a decade. His work has appeared in the New York Times Magazine, This American Life,  and Morning Edition, and he was a reporter at the Wall Street Journal, the Miami Herald, and the Bozeman Daily Chronicle. He is a graduate of Stanford University and Columbia University's Graduate School of Journalism. He lives, perhaps inevitably, in Brooklyn with his wife and two children.
Praise For…
---
A Publishers Weekly Top 10 Selection in Business & Economics

"Jacob Goldstein is a lucid, entertaining explainer of all things economic."
—Ira Glass, host and executive producer of "This American Life"

"A sweeping new history....Money is fast-paced and chatty: We meet all the characters an academic book would include, their ideas and innovations blended with scandal and gossip to propel the story along. The effect is a history of currency full of astonishing tales you might tell a friend in the pub....This story gets to the heart of why money matters....Money should be required reading for every financial regulator....Money is great preparation for turbulent times: a vibrant and accessible grounding in how the evolution of cash -- organic, random, and social -- really works."
—The New York Times

"Jacob Goldstein makes the complexities of economics and monetary policy not just comprehensible, but also genuinely fascinating. Charting the history of money becomes a lens through which to understand human history, and how we arrived at now."—John Green, #1 New York Times bestselling author of Turtles All the Way Down and The Fault in Our Stars

"Jacob Goldstein of 'Planet Money' has a remarkable gift for making complicated economic issues beguilingly simple. He has written a wonderfully entertaining, freewheeling history of money, told with all the verve and wit and smart insights that have made his NPR show such a success."—Liaquat Ahamed, author of Pulitzer Prize winner Lords of Finance: The Bankers Who Broke the World

"With shrewd observations and snappy anecdotes, Goldstein... shows how currency may be humanity's most successful fiction."—The New York Times (Editors' Choice)

"This is largely an optimistic book... money might be the one thing that we all still believe in....There's very little moralizing in [the] book."
—NPR "Morning Edition"

"It's no surprise that money has taken us on some wild rides over the centuries. In Money, Goldstein invites readers along for those adventures, serving as a first-rate tour guide throughout."
—Columbia magazine

"It is rare for a work on a subject so fraught with interpretation and misinterpretation to be both funny and accessible, beautiful and conversational, but Goldstein's Money hits the bullseye in every respect. It made me look at my wallet and its musty contents with fresh eyes. A must-read."—Gary Shteyngart, author of the New York Times bestsellers Little Failure and Super Sad True Love Story

"Certainly one of the most entertaining [books about the history of currency]….Jacob Goldstein covers over five millennia, including witty, incisive, and sometimes surprising takes."—Reuters

"Goldstein is a master storyteller who weaves an intriguing tale of how money and economic systems rose, fell, and rose again. In his hands, money disappears and the personalities and motives of centuries-old influencers emerge in vivid detail to paint a picture of the history that has given us our current monetary system."
—Betsey Stevenson, professor of public policy and economics at the University of Michigan

"[Money is] jaunty, comedic, short, and informative."—"The Gist" with Mike Pesta

"Thoroughly researched but thoroughly entertaining... told as a series of stories by one of radio's great storytellers."—Radio Spectrum

"A brisk, brightly told history....Goldstein deftly clarifies economic concepts....An informative primer from a genial guide."
—Kirkus Reviews

"Goldstein's entertaining storytelling style makes complicated ideas clear and engaging. Money is a must-read for all those who've ever wondered what their paycheck actually means."
—Booklist (starred review)