The Invisible Hand (Paperback)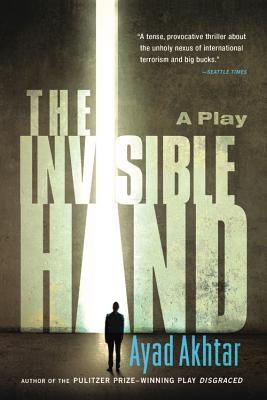 Description
---
A "tense, provocative" play (Seattle Times) from the author of Homeland Elegies and the Pulitzer Prize winner Disgraced -- a chilling examination of how far we will go to survive and the consequences of the choices we make.

In remote Pakistan, Nick Bright awaits his fate. A successful financial trader, Nick is kidnapped by an Islamic militant group, but with no one negotiating his release, he agrees to an unusual plan. He will earn his own ransom by helping his captors manipulate and master the world commodities and currency markets.


 
About the Author
---
Ayad Akhtar is a screenwriter, playwright, actor, and novelist. He is the author of the novel American Dervish and was nominated for a 2006 Independent Spirit Award for best screenplay for the film The War Within. His plays include Disgraced, recipient of the 2013 Pulitzer Prize for Drama; The Who & The What and The Invisible Hand, both of which received Off-Broadway runs and are being produced around the world; and Junk, produced at Lincoln Center in 2017 He lives in New York City.
Praise For…
---
Praise for The Invisible Hand

"With The Invisible Hand, Ayad Akhtar solidifies the reputation he forged with Disgraced as a first-rate writer of fierce, well-crafted dramas that employ topicality but are not limited by it.... The prime theme is pulsing and alive: when human lives become just one more commodity to be traded, blood eventually flows in the streets."--Brendan Lemon, Financial Times

"Raises probing questions about the roots of the Islamic terrorism that has rattled the world for the last decade and more."--Charles Isherwood, New York Times

"A hand-wringing, throat-clenching thriller.... [that] grabs you and won't let go."--Jesse Green, New York Magazine

"Confirms the Pakistani-American playwright as one of the theater's most original, exciting new voices.... In this tight, plot-driven thriller, Ahktar again turns hypersensitive subjects into thought-provoking and thoughtful drama. But here he also brings a grasp of money-big money-not to mention the market's unsettling connections to international politics."--Linda Winer, Newsday

"Politically provocative.... A scary (and dreadfully funny) treatise on the universality of human greed."--Marilyn Stasio, Variety

"[A] tragically contemporary thriller.... There has been precious little activity on this front since Jerry Sterner's Other People's Money and Caryl Churchill's Serious Money.... Mr. Akhtar makes up for this oversight with a vengeance."--Harry Haun, New York Observer

"[A] tense, provocative thriller about the unholy nexus of international terrorism and big bucks.... Akhtar...expertly decodes that vivid expression, 'blood money.'.... The Invisible Hand jolts along like a well-made caper flick.... But the taut plot is also a great setup for a fierce psychological match, and a useful colloquy on the American dollar as a force for good and evil.... [A] very telling, compelling play."--Misha Berson, Seattle Times

"Whip-smart and twisty.... Akhtar offers a hostage tale that balances violence, humor and geopolitical critique, never losing its edge or letting us complacently root for one side."--David Cote, Time Out New York