The Who & The What: A Play (Paperback)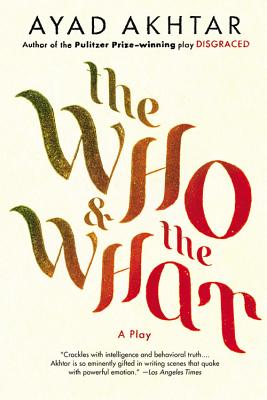 $19.99

Usually Ships in 1-5 Days
Description
---
The author of Homeland Elegies and Pulitzer Prize winner Disgraced explores the conflict that erupts within a Muslim family in Atlanta when an independent-minded daughter writes a provocative novel that offends her more conservative father and sister.

Zarina has a bone to pick with the place of women in her Muslim faith, and she's been writing a book about the Prophet Muhammad that aims to set the record straight. When her traditional father and sister discover the manuscript, it threatens to tear her family apart. With humor and ferocity, Akhtar's incisive new drama about love, art, and religion examines the chasm between our traditions and our contemporary lives.
About the Author
---
Ayad Akhtar is a screenwriter, playwright, actor, and novelist. He is the author of the novel American Dervish and was nominated for a 2006 Independent Spirit Award for best screenplay for the film The War Within. His plays include Disgraced, recipient of the 2013 Pulitzer Prize for Drama; The Who & The What and The Invisible Hand, both of which received Off-Broadway runs and are being produced around the world; and Junk, produced at Lincoln Center in 2017 He lives in New York City.
Praise For…
---
"Crackles with intelligence and behavioral truth.... Akhtar is so eminently gifted in writing scenes that quake with powerful emotion.... The moments of strife, both religious and romantic, are frighteningly believable."—Charles McNulty, Los Angeles Times

"At its fiercest...THE WHO AND THE WHAT bares some of the same teeth as [Akhtar's] riveting, 2013 Pulitzer-copping Disgraced.... Akhtar's who and what are potent."—Bob Verini, Variety

"A thought-provoking work, one that smashes together references to Big Love and David Letterman with quotes from the Prophet Muhammad and academic arguments about gender politics.... Akhtar [is] one of theater's most vibrant, exciting young writers."—Mark Kennedy, Associated Press

"Like Zarina's messy, impassioned book, THE WHO AND THE WHAT stirs the pot in unexpectedly dramatic ways."—Jason Clark, Entertainment Weekly

"Matters of faith and family, gender and culture are stirred together into a fiery-flavored stew in THE WHO AND THE WHAT, the probing new play by Ayad Akhtar.... [that] explores intergenerational and interfaith conflicts with fluid eloquence and intelligence. Mr. Akhtar writes dialogue that, while often funny and always natural, crackles with ideas and continually reveals undercurrents of tension that ratchet up the emotional stakes."—Charles Isherwood, New York Times

"Akhtar-winner of the 2013 Pulitzer Prize in drama for Disgraced-has crafted a story that's dense with intertwined desires, frustrations, expectations and resentments.... A heady exploration of how one's hoped-for path in life can crash against the ramparts of family and society... [THE WHO AND THE WHAT] helps lift a veil on a spiritual tradition that's little-portrayed on American stages. The 'what' of this ambitious play could just about fill a book by itself; the 'who' at its heart is one lively, vibrant and questioning voice."

—James Hebert, San Diego Union-Tribune

"An interesting, sometimes riveting, take on patriarchy, loyalty and religious purity.... The dialogue is sharp and occasionally singeing."—Josh Baxt, CultureVulture

"Funny and...moving."—Mike Fischer, Sunday Journal Sentinal

"Gutsy and very admirable.... Not a script to miss."—Chris Jones, Chicago Tribune