The Fractured Dark (The Devoured Worlds #2) (Paperback)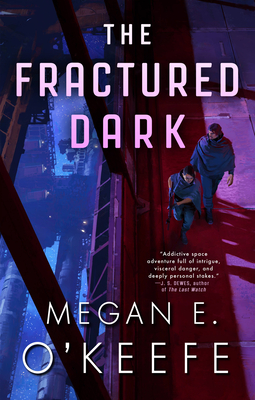 Other Books in Series
This is book number 2 in the The Devoured Worlds series.
Description
---
Dying planets, dangerous conspiracies, and secret romance abound in the second book of the Devoured Worlds trilogy, by rising space opera star Megan E. O'Keefe.

Naira and Tarquin have escaped vicious counterrevolutionaries, misprinted monsters, and the pull of a dying planet. Now, bound together to find the truth behind the blight that has been killing habitable planets, they need to hunt out the Mercator family secrets. But, when the head of Mercator disappears, taking the universe's remaining supply of starship fuel with him, chaos breaks loose between the ruling families. Naira's revolution must be put aside for the sake of humanity's immediate survival.

Praise for the Devoured Worlds trilogy: 

"Full of deftly plotted twists and turns, The Blighted Stars is a body-hopping, zombie-popping, rock-licking thrill ride." —Emily Skrutskie, author of Bonds of Brass

"Lots of action, lots of character, and lots of heart. Megan E. O'Keefe delights with every page. I couldn't put it down!" —Karen Osborne, author of Architects of Memory

The Devoured Worlds
The Blighted Stars
The Fractured Dark
About the Author
---
Megan E. O'Keefe was raised amongst journalists, and as soon as she was able, joined them by crafting a newsletter which chronicled the daily adventures of the local cat population. She has worked in both arts management and graphic design, and has won Writers of the Future and the Gemmell Morningstar Award.

Megan lives in the Bay Area of California.
Praise For…
---
Praise for The Devoured Worlds:
 
"The Blighted Stars delivers a first-in-series that's smart, incisive, and utterly gripping. Megan E. O'Keefe's masterful storytelling will draw you into a complex, brutal, yet hope-charged world, break your heart, and leave you begging for more." —Rowenna Miller, author of Torn
 
"Brimming with unconventional gender dynamics and shifting identities, The Blighted Stars is character-driven science fiction at its best—a taut novel with human questions at its heart." —E. J. Beaton, author of The Councillor 
 
"Emotional arcs and action sequences, vivid worldbuilding, and interesting explorations of body printing and corporate servitude provide an immersive story...O'Keefe's latest has the intrigue, surprises, and high stakes of her previous novels." —Library Journal

"The story's environmental themes are handled very well (O'Keefe gives the reader much to think about without sounding didactic); the characters are lively; and the writing is full of energy. A very promising series launch." —Booklist

"O'Keefe delivers a captivating exploration of identity in this smart, addictive space adventure full of intrigue, visceral danger, and deeply personal stakes. Come for the epic sci-fi action, stay for the charmingly broken characters just doing their best." ―J. S. Dewes, author of The Last Watch

"The Blighted Stars is a delightfully twisty space opera filled with unique worldbuilding and deft explorations of humanity, family, and power. Add in a dash of rebellion and a hint of romance, and I'm hooked—I can't wait for the next book!" ―Jessie Mihalik, author of Hunt the Stars