Asylum: A Survivor's Flight from Nazi-Occupied Vienna Through Wartime France (Hardcover)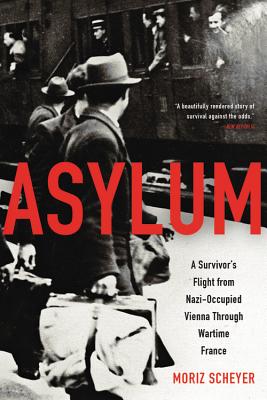 for information about purchasing this book, please contact orders@bookpassage.com
Description
---
A recently discovered account of an Austrian Jewish writer's flight, persecution, and clandestine life in wartime France.

As arts editor for one of Vienna's principal newspapers, Moriz Scheyer knew many of the city's foremost artists, and was an important literary journalist. With the advent of the Nazis he was forced from both job and home. In 1943, in hiding in France, Scheyer began drafting what was to become this book.

Tracing events from the Anschluss in Vienna, through life in Paris and unoccupied France, including a period in a French concentration camp, contact with the Resistance, and clandestine life in a convent caring for mentally disabled women, he gives an extraordinarily vivid account of the events and experience of persecution.

After Scheyer's death in 1949, his stepson, disliking the book's anti-German rhetoric, destroyed the manuscript. Or thought he did. Recently, a carbon copy was found in the family's attic by P.N. Singer, Scheyer's step-grandson, who has translated and provided an epilogue.
About the Author
---
Moriz Scheyer (1886-1949) was arts editor of one of Vienna's main newspapers from 1924 until his expulsion in 1938. A personal friend of Stefan Zweig, in his own lifetime he published three books of travel writing and three volumes of literary-historical essays. He died in France in 1949.

P. N. Singer is Scheyer's step-grandson, a writer, and a translator.
Praise For…
---
"'Try to understand me,' Moriz Scheyer begs the future readers of his memoir in 1944. And we do, leaving it drained, but exhilarated by the description of how he roamed an unfriendly Europe, stateless. With the publication of this mesmerizing book, his search for asylum might just be over."
—Ronald C. Rosbottom, Amherst College, author of When Paris Went Dark

"Moriz Scheyer's gripping account of survival under Nazi rule is both a chilling reminder of the fragility of life in a world gone mad, and a record of the generosity of spirit and courage of people who hardly knew him but risked everything to save him. Shocking, heartbreaking, but hugely inspiring."
—Susan Ottaway, author of A Cool and Lonely Courage

"Scheyer's account of his struggle for survival as a foreign Jew under Vichy, largely written while still in hiding, is propelled by the raw passion of righteous anger. His nuanced picture of wartime France, with its collaborators and resisters, vividly underscores the power of ordinary human kindness in the face of supreme evil."—Thomas Ertman, New York University, author of Birth of the Leviathan

"A well-written book full of desperate hope, intense fear, and a demand for vigilance against the mentality of hate."—Kirkus Reviews

"His prose is unembellished - direct and simple, like that of Ernest Hemingway".—Winnipeg Free Press