Canal House: Cook Something: Recipes to Rely On (Hardcover)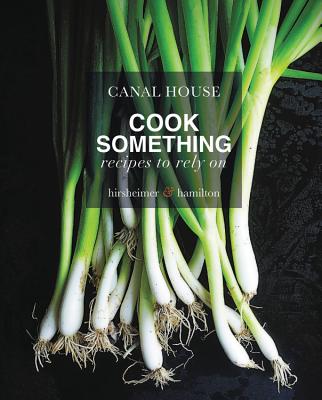 Description
---
Learn to cook well with this Joy of Cooking for the Instagram generation from James Beard Award-winning cookbook studio Canal House, "the 1600 Pennsylvania Avenue of the food world" (Bon Appetit), with 300 simple recipes to rely on for the rest of your life.
Canal House's Melissa Hamilton and Christopher Hirsheimer are home cooks writing about home cooking for other home cooks. From a lifetime of making dinner every single night, they've edited their experience down to the essentials: 300 simple and genius recipes that reveal the building blocks of all good cooking, and are guaranteed to make you a better cook.
Each chapter of
Cook Something
helps you master a key ingredient or powerful technique, moving from simple (a perfect soft-boiled egg, and how to make it uncommonly delicious) to ambitious (a towering chocolate souffle). Recipes for
salad dressings
,
sauces
,
braises
,
roasts
,
meatballs, vegetables
, and even
perfect snacks and sweets
help novice and experienced cooks alike reach for the perfect dish for any occasion. Inside, you'll find:
Poached salmon with lemon-butter sauce
Fettucine with ragu bolognese
Oven-braised chicken with gnocchi
French onion soup
Canal House's classic vinaigrette
Classic Italian meatballs
Caramelized apple galette
And so much more.
Filled with step-by-step photographs and indispensable kitchen wisdom, it is a perfect gift for beginners and an ideal reference for confident cooks.
Cook. Cook something. Cook something for yourself. Cook something for others. It will satisfy you more than you know.
About the Author
---
Melissa Hamilton is a renowned food stylist and cofounder of Canal House. She previously worked at Saveur, which she joined in 1998, as the test kitchen director, and was its food editor for many years. Hamilton also worked in the kitchens of Martha Stewart Living and Cook's Illustrated, and she was the cofounder and first executive chef of Hamilton's Grill Room in Lambertville, New Jersey. She has developed and tested recipes and styled food for both magazines and cookbooks, including those by acclaimed chefs John Besh, Michael Psilakis, Roberto Santibanez, and David Tanis. She works with Christopher Hirsheimer on Canal House Cooking, for which the two do all of the writing, recipes, photography, design, and production.

Christopher Hirsheimer is an award-winning photographer and cofounder of Canal House. Her experience includes establishing a publishing venture, running a culinary and design studio, and publishing an annual series of three seasonal cookbooks titled Canal House Cooking. Prior to starting Canal House in 2007, in Lambertville, New Jersey, Hirsheimer was the executive editor of Saveur, which she cofounded in 1994, and the food and design editor of Metropolitan Home. She cowrote the award-winning Saveur Cooks ;series and The San Francisco Ferry Plaza Farmers' Market Cookbook. Her photographs have appeared in more than 50 cookbooks for such notables as Lidia Bastianich, Mario Batali, Julia Child, Jacques Pépin, and Alice Waters, and in numerous magazines, including Bon Appetit, Food & Wine, InStyle, and Town&Country. She works with Melissa Hamilton on Canal House Cooking, for which the two do all of the writing, recipes, photography, design, and production.
Praise For…
---
ONE OF THE BEST AND MOST ANTICIPATED COOKBOOKS OF THE YEAR--New York Times, Los Angeles Times, Epicurious, Food52, Food and Wine, Chowhound, The Kitchn, Forbes

The "patron saint of seasonal home cooking... the book comprises 300 unfussy-yet-extra-special recipes, stories, and tutorials from Hirsheimer & Hamilton's collective century of cooking experience; in it, you'll find how-tos on everything from boiling an egg properly to making fresh pasta and curing salmon--and beyond. The recipes themselves range from classic to unexpected, and along the way teach us a heck of a lot about the many different ways to cook and eat."—Food52

"An ideal manual for modern cooks... How to eat, shop, drink, and live in ways that wring the most satisfaction from the least work. Gobble it up."—Julia Moskin, New York Times

"The masters of understated elegance... [Cook Something] distills their approach down to 300 essential recipes."—Wall Street Journal

"A collection of simple, approachable, and timeless recipes for everything from simple breakfast frittatas to a more ambitious roast prime rib of beef... classic recipes that work, ensuring your success in the kitchen from the start."—Los Angeles Times

"Wonderful... Cook Something is full of recipes to fall-back on, ones you want to make again and again."—Epicurious

"With more than 300 dishes in this book, every cook is bound to find a new favorite... a new modern-day kitchen classic."—Forbes

"As home cooks, they know you don't want a super complicated set of instructions most nights--you just want a good dinner without too much fuss. This new cookbook will get anyone there, from beginning cooks to jaded vets in need of a little inspiration. It includes 300 basic-but-brilliant recipes that cover every course, including snacks and sweets, so you can find just what you're looking for."—Chowhound

"Their best book... you will want to give [it] to new marrieds, recent graduates, clueless millennials, divorced men, and you, veteran cook that you are, ought to get a copy for yourself.... In brief, this is the new Joy of Cooking, the one essential book for every home cook."—Head Butler

"[A] stunningly photographed step-by-step guide that's filled to the brim with twists on the classics."—The Kitchn

"The creators of the Canal House cooking series bring their decades of wisdom and impeccable, approachable taste to an essential volume."—Christine Muhlke, New York Times Book Review

"Based on chapters that teach readers how to master a key ingredient or powerful technique, ranging from braises and sauces to salad dressings and vegetables. You'll find Canal House's classic vinaigrette; there's also oven-braised chicken with gnocchi, all paired with step-by-step photos."—Food & Wine

"A feast of ideas, recipes, tutorials, advice and gorgeous photography that will make you run to the store and start cooking everything in sight."—NPR's Here and Now

"Hamilton and Hirsheimer offer an exhaustive beginner's guide to cooking basics in this tasty and beautiful collection... with the expert guidance provided here, first-time cooks will be able to prepare delicious meals with confidence."—Publishers Weekly

"Packed with 300 recipes for salad dressings, sauces, braises, roasts, vegetables, snacks and more to help novice and experienced cooks alike discover for the perfect dish for any occasion."—PureWow

"A go-to for novice and seasoned cooks alike."—Parade