Bartlett's Familiar Quotations (Hardcover)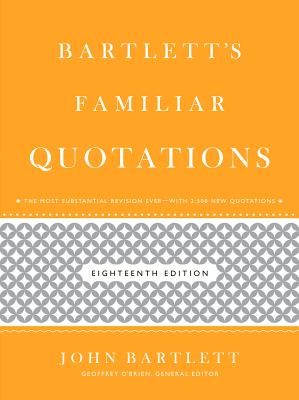 $50.00
Email or call for price
Description
---
More than 150 years after its original publication, Bartlett's Familiar Quotations has been completely revised and updated for its eighteenth edition. Bartlett's showcases a sweeping survey of world history, from the times of ancient Egyptians to present day.

New authors include Warren Buffett, the Dalai Lama, Bill Gates, David Foster Wallace, Emily Post, Steve Jobs, Jimi Hendrix, Paul Krugman, Hunter S. Thompson, Jon Stewart, Elizabeth Kubler-Ross, Barack Obama, Che Guevara, Randy Pausch, Desmond Tutu, Julia Child, Fran Leibowitz, Harper Lee, Nassim Nicholas Taleb, Patti Smith, William F. Buckley, and Robert F. Kennedy.

In the classic Bartlett's tradition, the book offers readers and scholars alike a vast, stunning representation of those words that have influenced and molded our language and culture.
About the Author
---
Geoffrey O'Brien is the editor-in-chief of The Library of America, and author of fifteen books, most recently The Fall of the House of Walworth, and other works including Hardboiled America, Dream Time, The Phantom Empire, The Times Square Story, The Browser's Ecstasy, Castaways of the Image Planet, and Sonata for Jukebox. He has contributed frequently to The New York Review of Books, Artforum, Film Comment, and other publications. He lives in New York City.