Monica's Story (Mass Market Paperback)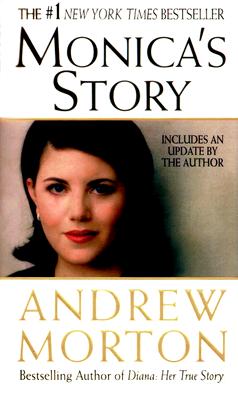 $6.99
Email or call for price
Description
---
Behind the headlines, there was one fascinating woman. This is her story.

Monica Lewinsky. You know her name, you know her face, and you think you know her story: the pretty young intern who began an illicit affair with the President of the United States-- a liaison that ignited an unprecedented political scandal and found Bill Clinton as the second U.S. president to ever be impeached. But there is much more to the Monica Lewinsky story than just that. Now, Andrew Morton, author of the #1 New York Times bestseller, Diana: Her True Story, takes you beyond the headlines and the sound bites to discover the real Monica Lewinsky, a woman as interesting, intelligent, and misunderstood as they come.

Read Monica's Story and you'll discover:

* How a difficult childhood shaped Monica's tumultuous adult romances
* Her relationship with Bill Clinton: how she saw a side to him few know-- and why she sometimes still misses her "Handsome"
* The betrayal by Linda Tripp-- and how Monica's trusting nature snared her in Tripp's treacherous web
* The horror of Kenneth Starr's exhaustive and intrusive inquiry-- how it affected her and her family, and how it still haunts her
* Where Monica will go from here: What are her career plans? Will she realize her dream of marrying and starting a family in the wake of the scandal?
* And much, much more

With sixteen pages of photos.
About the Author
---
Andrew Morton, who lives in London with his wife and two daughters, is the author of the worldwide bestseller "Diana: Her True Story." He has won numerous awards, including Author of the Year and a special prize for services to journalism.