The Verificationist: A Novel (Paperback)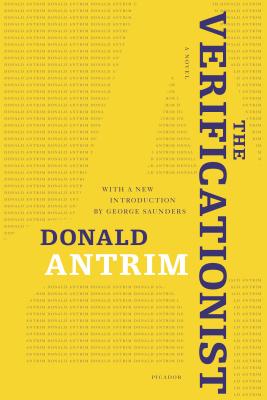 $17.00

Usually Ships in 1-5 Days
Description
---
With a New Introduction by George Saunders

A New York Times Book Review Notable Book of the Year

It is early spring, and Tom has called together his fellow psychologists at the Krakower Institute for their biannual pancake supper—a chance for likeminded analysts to talk shop and casually unburden themselves over flapjacks. But, as Tom knows (at least subconsciously), his brainy colleagues are a little on edge—simmering with romantic tension and professional grievance, their stew of conflicting ego and id just might boil to the surface before the pretty waitress brings their next coffee refill. When Tom tries to provoke a food fight, a rival colleague locks him in a therapeutic hold, triggering a transcendent if totally bizarre transformation that will free Tom to confront his greatest pleasures and fears.

Darkly funny and beautifully written, The Verificationist confirms Donald Antrim as one of America's best and most original authors.
About the Author
---
Donald Antrim is the critically acclaimed author of Elect Mr. Robinson for a Better World, The Hundred Brothers, and The Verificationist, as well The Afterlife, a memoir about his mother. A regular contributor to The New Yorker, he has also been the recipient of a MacArthur "Genius" Grant and fellowships from the John Simon Guggenheim Memorial Foundation, the National Endowment for the Arts, and the New York Public Library. He lives in New York City.  
Praise For…
---
"A superb literary achievement." —Entertainment Weekly

"Edgy, fantastical, absurdist, Dionysian, visionary. " —Newsday

"Antrim does a beautiful job.…[Full] of intellection, rude humor, grief, and longing. " —The New York Times Book Review

"Donald Antrim is in top form with this high-spirited hallucination, whose characters, undeniably ourselves, carry on engagingly and shamelessly in an off-the-wall, not to mention off-the ceiling, environment that is also the world we know, and sometimes wish we didn't." —Thomas Pynchon

"Not since the late Donald Barthelme have we had such a pitch-perfect surrealizing of domestic American life." —Esquire

"Antrim's extraordinary imagination has invited comparison of his work with that of Italo Calvino, but Antrim has a sharper razor." —Annie Proulx

"Vividly, Antrim captures the poignancy of the human enterprise.…He goes right for the jugular in order to expose the vital essential pulse of his characters--and by proxy, our own. " —Elle

"Antrim is the Buster Keaton of current American literature. " —The Wall Street Journal