Why My Third Husband Will Be a Dog: The Amazing Adventures of an Ordinary Woman (Paperback)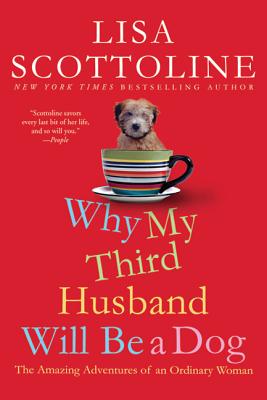 for information about purchasing this book, please contact orders@bookpassage.com
Other Books in Series
This is book number 1 in the The Amazing Adventures of an Ordinary Woman series.
January 2010 Indie Next List
---
"Scottoline shares her life over the course of a year in this insightful and humorous book, reflecting on family, aging in today's American culture, regrettable paint choices, electronic devices that think for us, education, haircuts, Thanksgiving, and the press. You'll be laughing out loud over her observations about life and the bizarre nature of things."
— Natalie Glenn, Red-Tail Books, Eleven Mile Corner, AZ
Description
---
This one's for you, extraordinary ordinary women everywhere! It's time for seriously hilarious girl-talk with New York Times bestselling author Lisa Scottoline.

She's shared this collection of scenes from her real life, and she bets her life sounds a lot like yours . . . if you crave carbs, can't find jeans that fit, and still believe that these two things are unrelated. Pick up this book—you'll laugh, you'll cry, and you'll swear off pantyhose. Here are some examples of Lisa's wit and wisdom:
"Everybody has their pornography, and mine is the real estate ads."

"We'll get universal health care before we get beauty salons open on Mondays, and that's backwards. Ask any woman if she'd rather have a haircut or a mammogram, and you'll see what I mean."

"Mothers are a natural force, and maybe an alternative source of fuel."

"Lately there's been talk about a religion that allows polygamy, so that a man can have as many wives as he pleases. Where is the religion that allows a woman to have as many husbands as she pleases?"

"I have never been in an accident, if you don't count my two marriages."

"My mother taught us that if you eat baked beans from a can that has dents, you'll die of botulism. This was before people injected botulism into their faces. Nowadays, the dented can will kill you, but you'll look young."

Inspired by her wildly popular column in The Philadelphia Inquirer entitled "Chick Wit," Why My Third Husband Will Be a Dog is a book you'll have to put down—just to stop laughing.
About the Author
---
Lisa Scottoline is the New York Times bestselling author of over thirty novels including Look Again, Lady Killer, Think Twice, Save Me and Everywhere That Mary Went. She also writes a weekly column, "Chick Wit," with her daughter Francesca Serritella, for The Philadelphia Inquirer. The columns have been collected in seven volumes, including Why My Third Husband Will Be a Dog and My Nest Isn't Empty, It Just Has More Closet Space. Scottoline has won an Edgar® Award and Cosmopolitan magazine's "Fun Fearless Fiction" Award, and she served as the president of Mystery Writers of America. She teaches a course on justice and fiction at the University of Pennsylvania Law School, her alma mater. She lives in the Philadelphia area.
Praise For…
---
"Scottoline savors every last bit of her life, and so will you." —People magazine

"Plunging into home improvement frenzy, constructing a chicken coop, figuring out mystifying insurance policies and how not to die at the gym are some of the conundrums this ordinary woman faces with verve and wicked humor, especially how her beloved dogs have contentedly replaced the romance in her life." —Publishers Weekly

"Scottoline takes the fodder of everyday life and offers witty reflections from a female perspective." —Booklist

"…shrewd, tart, sensitive and hard to resist." —Kirkus Reviews

"She has compiled about 70 of the funniest, smartest and most poignant dispatches into one deliciously exuberant collection. What really makes this collection so addictive is Scottoline's way of capturing everyday moments, dissecting them and coming up with unexpected and slightly off-kilter observations about life." —Book Page