Beverly Hills Adjacent (Hardcover)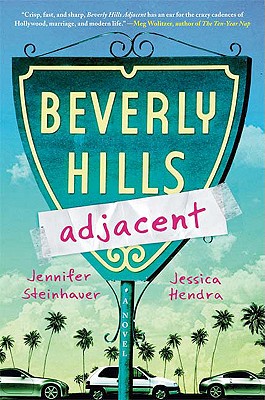 $24.95
Email or call for price
Description
---
During pilot season, June Dietz's husband Mitch Gold becomes another man—a man who doesn't notice her delicious Farmers Market homemade dinners, who mumbles responses around the tooth-whitening trays in his mouth, who is consumed with envy for his fellow television actors, who pants for a return phone call from his agent. And who wants to be married to an abject, paranoid, oblivious mess? Possibly not June, whose job as a poetry professor at UCLA makes her in but not of Los Angeles, with its illogical pecking order and relentless tribal customs. Even their daughter Nora's allegedly innocent world isn't immune from one upsmanship: while Mitch is bested for acting jobs by the casually confident (and so very L.A.) Willie Dermot, June is tormented by Willie's insufferably uptight wife Larissa and the other stay-at-home exercisers in the preschool.
Could Rich Friend be the answer? Smart, age-appropriate, bookish—and a wildly successful television producer—Rich focuses on June the way nobody has since she moved to Los Angeles, and there's nothing for June to do but wallow in what she's been missing. But what's the next step? How does a regular person decide between husband and lover, family and fantasy?
Set in a Los Angeles you haven't read about before, Beverly Hills Adjacent is that rare thing: a laugh-out-loud novel with heart.
About the Author
---
JENNIFER STEINHAUER is the Los Angeles bureau chief of "The New York Times," where she began working as a copygirl in college. Her reporting on Hurricane Katrina won the Newswoman's Club of New York Front Page Deadline Reporting Award in 2006. JESSICA HENDRA is the author of "How to Cook Your Daughter" A Memoir. She is married to a working television actor. "Beverly Hills Adjacent" is the first fiction for each. They live in the real west L.A., in Rancho Park.
Praise For…
---
"Crisp, fast and sharp, Beverly Hills Adjacent has an ear for the crazy cadences of Hollywood, marriage and modern life."--Meg Wolitzer, author of The Ten-Year Nap
"A smart novel about a Hollywood couple trying to survive TV pilot season."--People StyleWatch
"The authors' sense of humor gives this book plenty of pep."--Publishers Weekly
"A laugh-out-loud novel about the skewed mores and hungry hearts of Hollywood."--
People
"Steinhauer and Hendra have a gift for Hollywood vapidspeak."--New York Times Book Review